Netflix cancels Tuca & Bertie animated sitcom after one season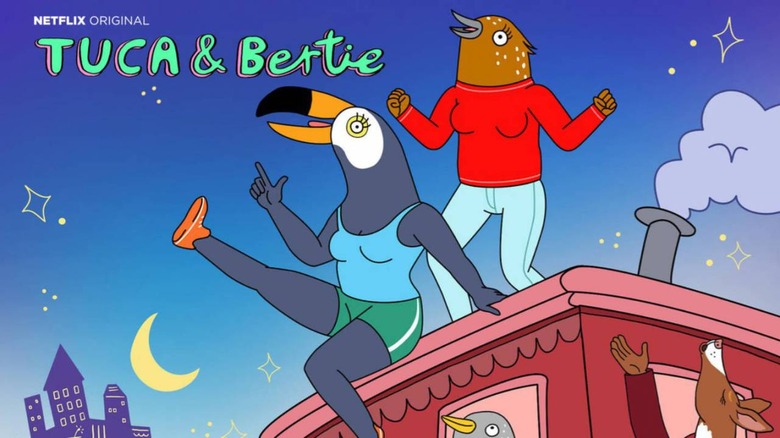 Netflix is notorious for quickly axing shows that aren't performing well, that cost too much, or that don't live up to whatever expectations it may have had for the content. The latest series on its chopping block is Tuca & Bertie, an animated sitcom aimed at adults that focused on two birds in a colorful, irreverent world. The show's creator revealed that it won't return for a second season on the streaming platform.
Tuca & Bertie's first season premiered on Netflix on May 3 of this year, introducing viewers to two bird women, both 30-years-old and living in the same apartment complex. Unlike Bertie, an anxious songbird, Tuca is a loud, cocky toucan facing life without her now-former roommate, Bertie, after the latter bird's boyfriend moves in with her.
Though animated shows designed for adults aren't new on Netflix, Tuca & Bertie introduced a fresh new animation and storytelling style, one that doesn't mimic the type of humor and animation popularized by Seth MacFarlane and Adult Swim. The show's first season achieved very high reviews from critics and viewers and currently shows a 93-percent 'liked' rate on Google.
Netflix is not ordering a second season of Tuca & Bertie.

— Lisa Hanawalt (@lisadraws) July 24, 2019
Despite that, and for reasons we'll probably never find out, Netflix declined the opportunity to order a second season for the animated sitcom. The news was announced by show creator Lisa Hanawalt in a Twitter thread during which she praised the first season, the team behind the show, and pointed out viewers' favorable response to it.
'None of this makes a difference to an algorithm,' Hanawalt said, 'but it's important to me and the way I want to continue making art in this world.' It's unclear whether the show will be shopped around to other services, though Netflix has set a precedent for its canceled original content to land elsewhere.