Netatmo smart thermostat unveiled with mobile connectivity and e-ink display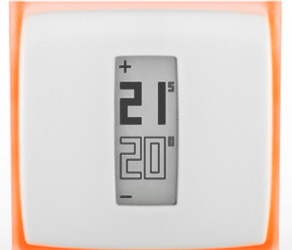 Smart thermostats aren't terribly uncommon at this point, though the most popular maker of such devices is arguably Nest. More options are slowly cropping up, however, the latest of which is Netatmo, a French startup that has introduced its smart thermostat, aptly named Thermostat. The Netatmo Thermostat comes with a variety of functionality, including wireless control from a mobile device.
The Netatmo Thermostat was designed by Starck, and can be controlled from an Android or iOS device or from a PC. The thermostat will learn the owner's habits over time, such as when everyone gets up in the morning and what time the owner gets home from work, adjusting itself as necessary. There's a self-regulation ability that is tailored to different activities and is designed to keep energy efficiency in mind.
As far as design goes, the Thermostat was made to be minimalistic and yet "audacious", and can be changed with different color films. To help keep energy consumption down, the thermostat utilizes an e-ink display, as well. Thermostat launched this month for about $288 USD, with the apps being available from their respective app stores for free.
Said Netatmo's founder and president Fred Potter: "Problems linked to energy are some of the most important issues facing our society today. Everyone is looking for practical and economically‐savvy solutions to help the planet and ensure its future. It was with this in mind that we created the Thermostat. We are looking to bring solutions, functional and well‐designed, that respond to this need and fit into your life. Our Thermostat for smartphone combines simplicity, ecology and technology to create an exceptional, elegant and minimalist design."
SOURCE: Hidden Wires