Nest Cam Outdoor offers 24/7 video streaming and easy install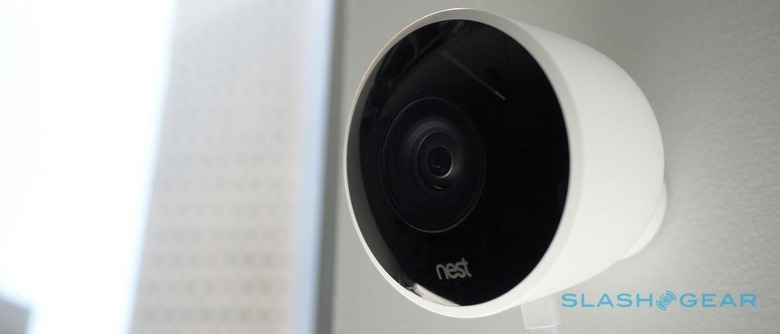 Nest is taking its intelligent cameras outside with the launch of the Nest Cam Outdoor, a weatherproof version of its streaming security system that makes ease of use and simplicity of installation its twin priorities. It'll work with a new machine learning system intended to cut out false warnings from motion-triggered alerts, together with a redesign of Nest's app that will affect users of its entire range of smart home products.
Assuming the majority of people buy a Nest Cam to serve as a digital security guard, "what sort of guard would you hire?" Mehul Nariyawala, product manager at Nest, asked rhetorically when I met him to see the new camera. According to the company's research, security is indeed the primary reason people buy Nest Cam; moreover, Nariyawala says, 30-percent of those buyers go on to point the camera out the window.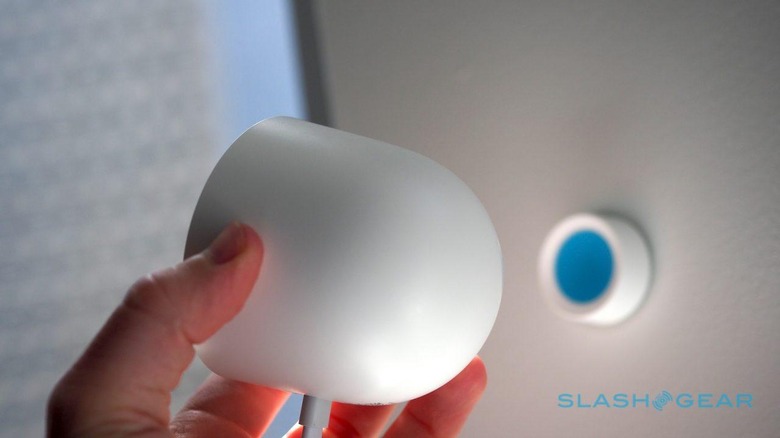 Some go even further. Even though it's not officially weatherproof, a surprising number of owners install Nest Cam outside.
A version specifically intended for use outside was an obvious next step, then, though that involved more consideration than just wrapping the existing Nest Cam in a water-tight enclosure, Nariyawala explained.
Installation is the big issue, and it forces you in one of two directions. On the one hand, you have a battery-powered camera; that's easiest for the user to initially install, but it runs into issues along the line. No battery lasts forever, and so replacing or recharging such a camera's batteries becomes a regular chore.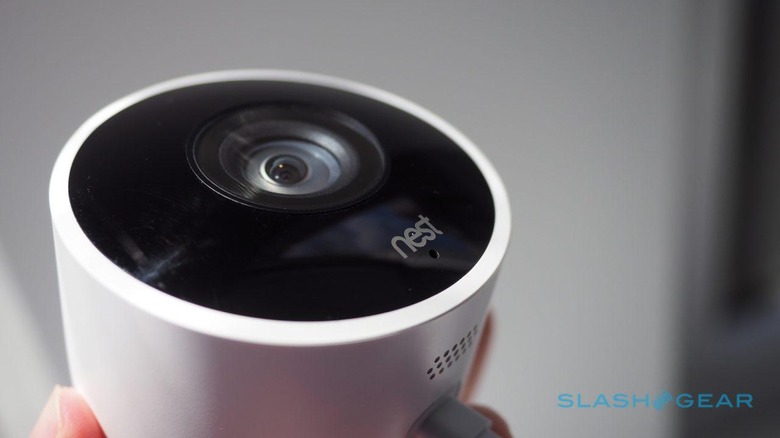 To try to delay that, battery-powered cameras aren't recording 24/7. Instead, recording and streaming is triggered by sensors, and that introduces its own problems, Nariyawala argues.
"Sensors are not reliable," he explains, pointing out that they're prone to laggardly triggering that doesn't start recording until thieves or intruders are out of frame, assuming they even start recording at all.
The other direction – and the one Nest has gone with – is a wired camera. Nest Cam Outdoor uses WiFi to connect to your router, but it gets its power from a regular outlet. That means it can record 24/7, as well as capture audio which battery-powered cameras often eschew since it's another significant consumer of power.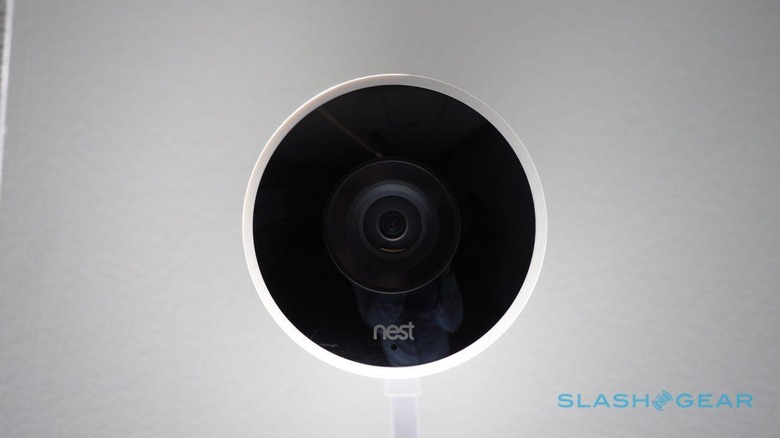 The result is a multi-part system. Nest Cam Outdoor itself is a white, IP65 weatherproof plastic bullet with a 1080p camera and 130-degree lens. It has both a microphone and a speaker, supporting two-way audio so you can challenge intruders or ask delivery people to leave packages in the garage, and a carefully arranged set of eight night vision infrared LEDs that avoid over-illuminating the center of the frame or leaving the edges in darkness.
It mounts magnetically to your choice of two brackets, one with traditional holes to screw into the wall – Nest provides all the mounting hardware you might need, including nine low-profile cable clips – and another that itself uses magnets to grab a metal siding or rainspout.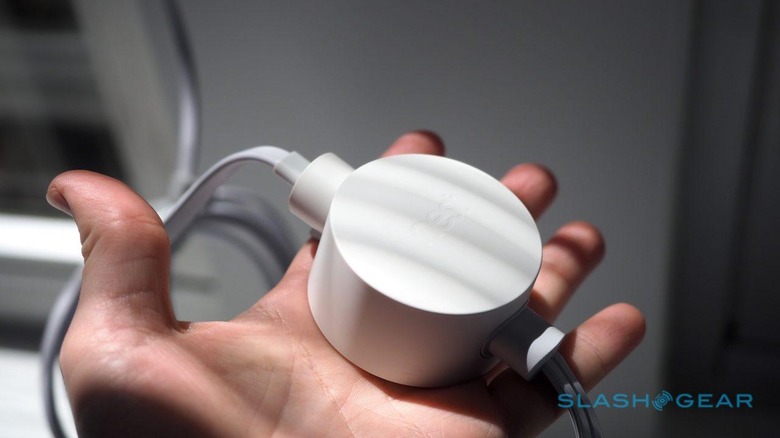 You connect that to a USB power supply, courtesy of a custom weatherproof and twist-locking USB plug. The power brick – which is actually a small, circular puck – is IP67 weatherproof, meaning it can survive being buried in snow or even submerged in water.
Altogether, you get around 25 feet of cable to run to the nearest outlet. Even the plug has been given special consideration: it's angled down, so the the hinged cover most outdoor outlets use can still fold down.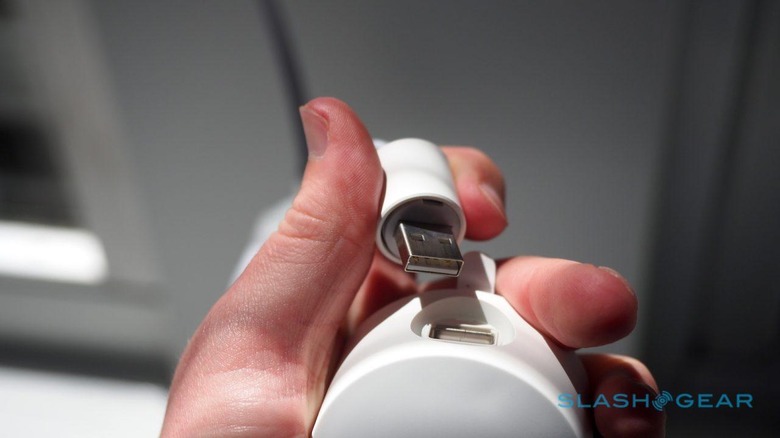 The idea, Nariyawala explained to me, is that buyers will first pair the camera with their network, then head out into the garden with their smartphone in hand so that they can check both that the WiFi signal is strong enough and that the mounting angle is correct.
Video streamed from Nest Cam Outdoor is, as with its indoor siblings, encrypted with a 2,048-bit RSA key over a 128-bit SSD connection. From the cloud, it's accessed from the Nest app, which is also getting an update.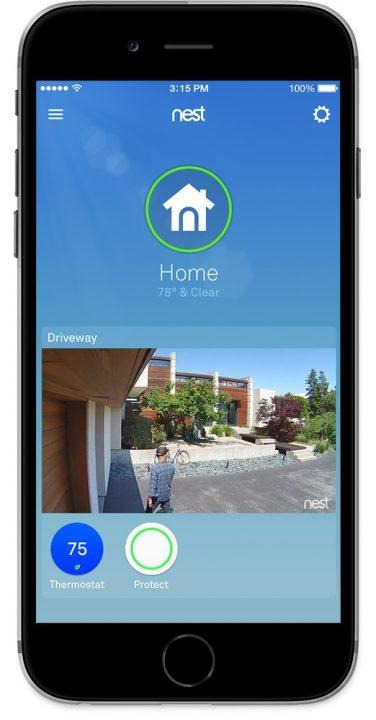 Nest v5.6, which is expected to hit iOS and Android devices later this month, will include a new interface that the company is calling "Spaces". Rather than a list of your cameras, thermostats, and smoke alarms, they'll be organized by room.
So, if you have a Nest thermostat and a Nest Cam in the living room, you'll see a thumbnail preview of the video and the thermostat underneath. The idea, Nariyawala says, is to tap into the idea that Nest users already have a mental understanding of how their house is organized, so why not use the same schema to organize their smart home technology too.
It's not the only change in Nest v5.6. The new app will also support private sharing, where you can give someone password-protected access to one of your video feeds. That might be a neighbor who is monitoring your house while you're on holiday, perhaps, or a grandparent wanting to see inside the nursery.
Paired with an Android Wear smartwatch or an Apple Watch, meanwhile, there'll be support for setting Nest thermostat temperature from the wrist.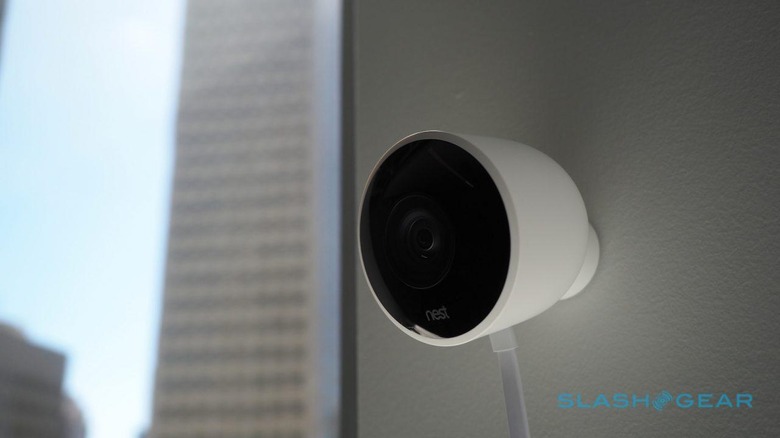 The other big change in the Nest app won't arrive until Nest Cam Outdoor goes on sale. Person Alerts arrived in recognition that, Nariyawala admits, "motion alerts are dumb."
Although you can already set certain areas of your Nest Cam's frame where motion is or isn't monitored, it's still likely that you'll get false-positives from falling leaves, passing cars, or even the change of sunlight as the day progresses. Nest's answer is to introduce new machine learning systems to try to better differentiate between a person and an object.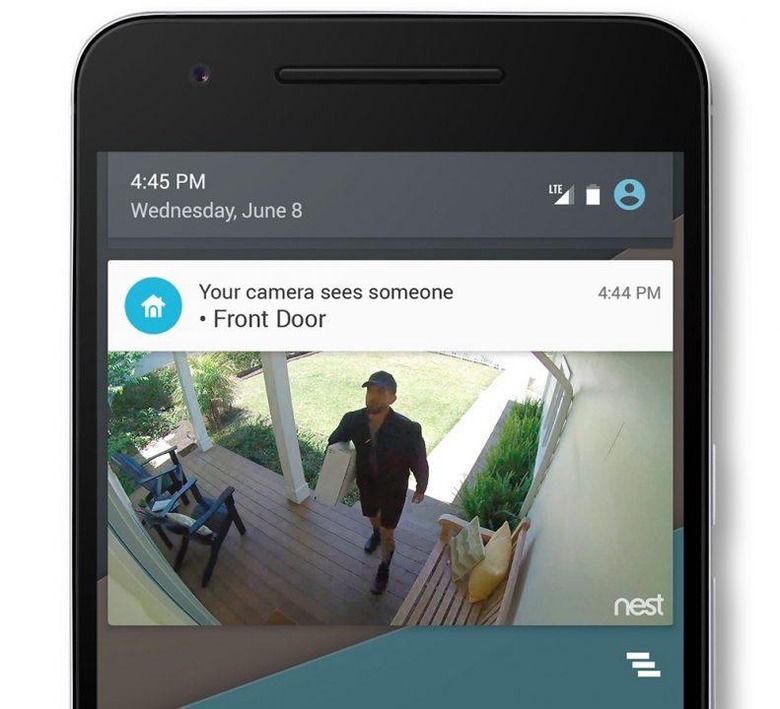 So, if there's movement – either spotted by a Nest Cam or a Nest Cam Outdoor – Person Alerts will try to distinguish whether it's an object or a pet, or if it's a human. There's room for uncertainty, too: if Nest isn't entirely sure, the push notification you get will say it "thinks" it sees someone.
That notification will include a preview image on Android – the same is coming to iPhone when iOS 10 drops – so that you can quickly decide if it's something worth opening the app for. Nest will try to be smart about how many notifications it sends out, too: if it looks like the same person is hanging around, perhaps because you're running late to meet them, it won't ping you with a warning every time they step into the frame.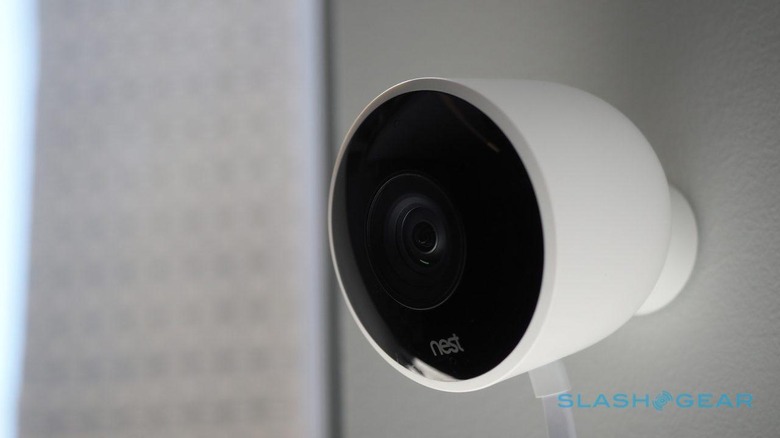 Nest knows it won't always get it right, Nariyawala says, but hopes that this "intelligent augmentation" is the first step to a far smarter, more flexible security system. Person Alerts will only be included in Nest's subscription plans, though there'll be no change in the price despite the new features.
Nest Cam Outdoor will hit shelves this fall, priced at $199.