Nest Cam IQ Outdoor Review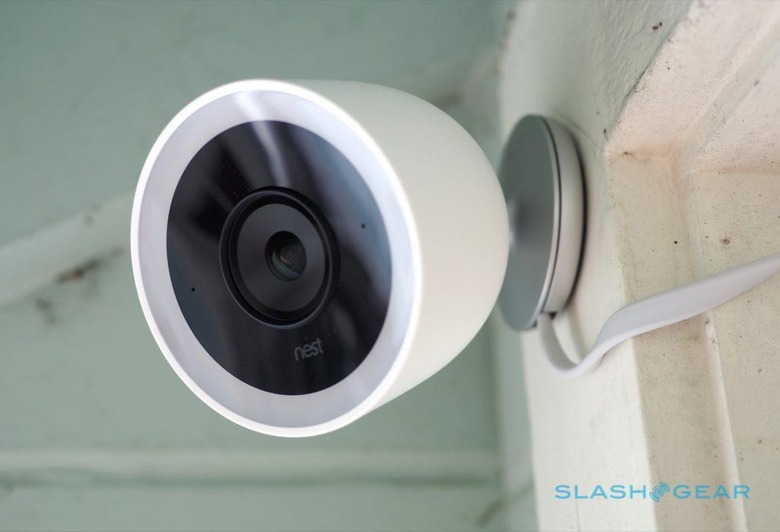 EDITORS' RATING: 8/10
Nest has built a name for itself for its sleekly-designed, premium-priced security cameras, thermostats, and other connected home tech, and the Nest Cam IQ Outdoor is no different. Latest in the Google-owned company's intelligence-toting cameras, it packs a surprising amount of smarts into an elegant housing.
The design is a hybrid of the indoor Nest Cam IQ and the Nest Cam Outdoor, the familiar matte white plastic doing a reasonable impersonation of ceramic. It's bigger than the old model, the black circular fascia now surrounded by an LED ring. You still get microphones – in this case three of them – and a speaker, the latter now louder than before.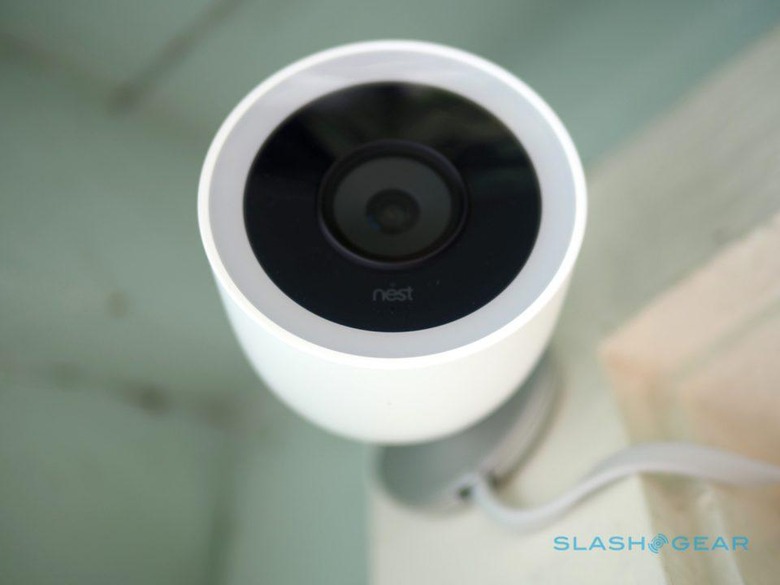 It's IP66 weatherproof, and the mounting plate allows it to tilt and swivel. Perhaps it's overkill, given how infrequently you might touch it or even look at it, but Nest's hardware and materials are still top notch. In a segment where not every camera can claim to be a design success, that stands out.
Installation
One big change from the original Nest Cam Outdoor is the mounting system. With its first exterior camera, Nest's strategy was to go for as simple an installation process as possible. The power supply was weatherproof, and intended to be plugged into an outside outlet. The mount used a magnet to hold the camera itself in place.
It was certainly easy, but it brought with it complaints about the overall security of the system. An enterprising burglar could simply unplug the camera, critics pointed out, or tug the whole thing off the wall. Yes, you'd get an alert when it went offline, but by the time you got home to check it, you could find your laptop and other valuables stolen.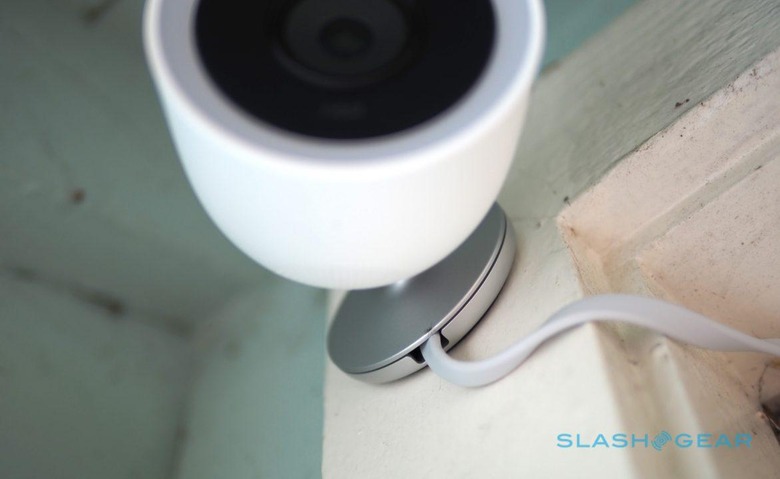 The Nest Cam IQ Outdoor takes a different approach. It's designed to be plugged in indoors, and the mounting plate uses a latch system that's more resilient to nefarious tugging. Nest offers two mounting strategies: for the most security you can drill a hole through your wall or door frame and route the flat, 25 foot power cable through that. Alternatively, you can snake the cable out of the edge of the mounting plate, and run it to wherever it can enter the house.
Given, like many, I rent rather than own, I opted for the latter route and guided the cable around the edge of an unused door to the nearest socket. A minor annoyance was the fact that the screw holes left from the old Nest Cam Outdoor I had in the same location were positioned differently to those of the new Nest Cam IQ Outdoor mount. Still, a minute or two with a power drill and it was up on the wall, and then I used the live preview in the app to tilt it to the required angle.
Performance
Unlike the 3-megapixels of the old model, the Nest Cam IQ Outdoor packs an 8-megapixel sensor capable of 4K resolution and High Dynamic Range (HDR) video. There's WiFi 802.11ac inside now, and four infrared LEDs for night vision. The camera has a 130-degree field of view.
While the sensor might be 4K-capable, the Nest Cam IQ Outdoor still tops out at 1080p resolution. There are a few good reasons for that, however. The first is bandwidth: 4K footage isn't small, and the camera is constantly streaming to the cloud. Even if your internet connection isn't metered, that could still put a dampener on other things you're trying to use it for.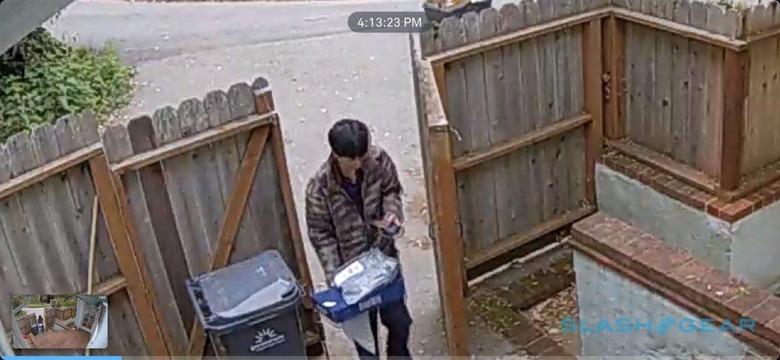 The bigger reason, however, is zoom. Unlike rival cameras, which basically enlarge a portion of the frame and lose detail in the process, Nest's 4K sensor allows a 1080p portion to be cropped without shedding pixels along the way. With the motion-tracking, it allows the camera to jump in on a person as they pass through the frame and then follow them. There's also an unexpectedly effective enhancement mode, which does a CSI-like job of cleaning up the footage and exposing more detail.
It's all straightforward to control, mind, in Nest's updated app. The same software pulls together all of your existing Nest hardware – if you have multiple cameras, a Nest thermostat, or smoke alarm, or any combination of the above – and can be organized into multiple "homes" and "rooms" for easier navigation. Tapping on a camera preview thumbnail opens up the Sightline, a timeline of activities through which you can scroll as the video itself spools at the top of the list.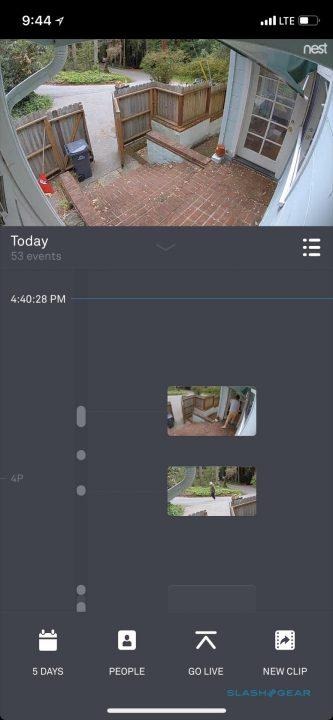 Events on the timeline are color-coded depending on whether there's just movement, a face spotted, or a noise heard. You can add clips to your Nest account to save them, and then download them to your phone or access them through the browser-based interface later.
The clips themselves are impressively clear. Night vision wasn't quite the 50 feet that Nest boasts, at least not in my street which lacks any sort of public lighting. However, it was certainly sufficient to see – in black & white – people as they came up to my front steps. Daytime footage was bright and colorful.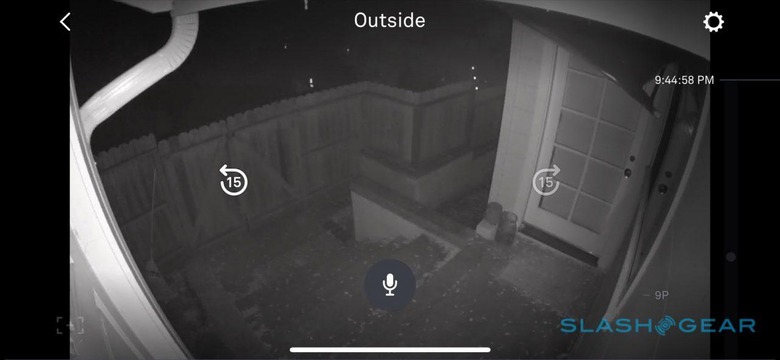 Nest Aware
What, exactly, you get alerted to depends on whether you're a Nest Aware subscriber. There are three plans: $5 per month for 5 days of video history, $10 per month for 10 days, or $30 per month for 30 days. Alternatively you can pay upfront for a year, at $50, $100, or $300 respectively.
Each plan comes with 24/7 continuous recording, the ability to save clips and timelapses, and the option of setting Activity Zones: sections of the frame which will be flagged for movement. Without a subscription, you only get a still snapshot of what the camera saw when motion or sound was detected, and even then they're only saved for three hours.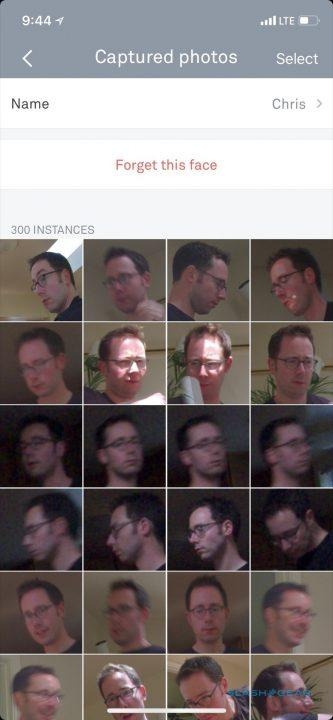 It's the intelligent alerts which set the Nest Cam IQ Outdoor apart from the Nest Cam Outdoor. The boosted onboard processing means that it can differentiate between general movement and seeing a person itself, without relying on Nest Aware doing cloud processing. It means that, even if you don't have a subscription, you'll still get notifications that the camera has seen a person.
What you only get with Nest Aware and the Nest Cam IQ Outdoor, however, are familiar face alerts. Over time, the camera can learn the faces of different people, creating snapshot groups which you can name. Eventually, you can have the camera only notify you if it sees a person it doesn't recognize, but ignore those it knows.
The broader smart home
Integration with the wider smart home falls into two categories. Obviously there's Nest's own ecosystem of cameras, thermostats, and other devices. However, there's also the Works With Nest program, which certifies third-party devices that will play nicely with the company's products.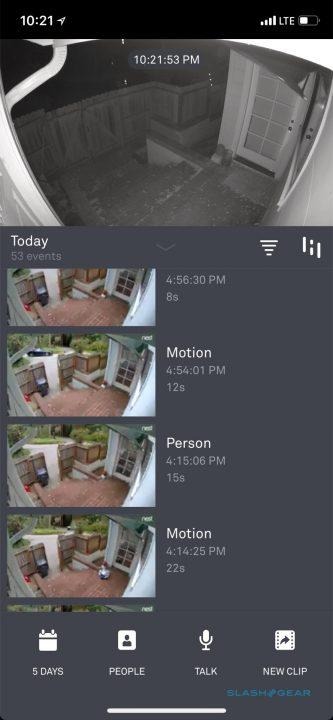 For example, if you have Philips Hue lights, you could have them turn on when the Nest Cam IQ Outdoor spots movement. Different companies have smart switches and other devices, which could each be triggered by Nest alerts. Broader still, IFTTT allows you to use sounds or motions as triggers for other connected devices and services. You could, for example, have a new entry in a Google Docs document appended, every time the Nest Cam IQ Outdoor hears a sound.
Wrap-up
There are two very distinct halves to the Nest experience, and which you get depends on whether you're a Nest Aware subscriber. If you're trying to avoid a monthly subscription then, honestly, Nest's cameras aren't for you. The feature set is just too limited on the free plan; rival cameras, like Netgear's Arlo Pro 2, are far more generous with their free storage.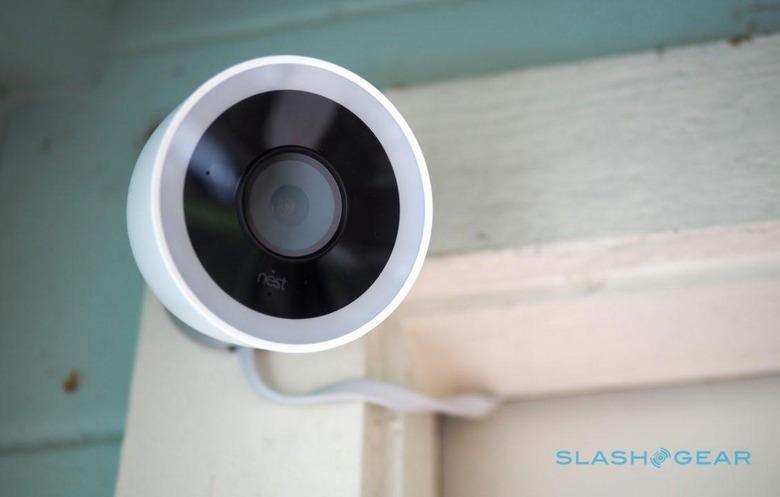 If you can handle the subscription, however, Nest's intelligent alerts, well designed app, and smart abilities to differentiate between different events move the Nest Cam IQ Outdoor back into contention. Not only is it adept at differentiating between the motion you want to know about – people and cars – but not passing shadows or pets, it also handles facial recognition well, too. The quality of its videos is top-notch.
None of this experience comes cheap. The Nest Cam IQ Outdoor itself is $349, after all, before you even consider a subscription. In return you're getting a slick user experience and beautiful hardware, but those wanting to surround their home with cameras will want to do the math first.