NES HTPC Mod With NVIDIA Ion Graphics [Video]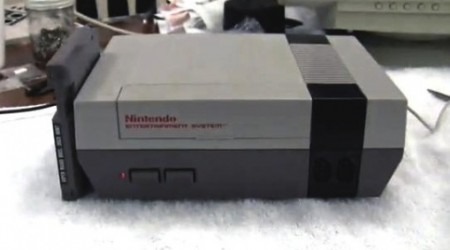 NES console mods are cool, HTPCs are pretty cool, and nettops with NVIDIA Ion graphics are darned cool too, so when you put all three elements together you've got a recipe for something with a whole lot of cool potential.  Modder drumboog has been video documenting his work transforming a NES into an Atom 330 based Blu-ray HTPC with GeForce 9400M graphics, and while it's not quite complete yet, it's certainly 99-percent awesome.
Video after the cut
Inside the stripped-out NES casing goes a Zotac Atom 330 dual-core motherboard, which is then accompanied by a Blu-ray optical drive, TV tuner and a pretty vast 140mm case-fan.  There's also a 64GB SSD in there, but because of a faulty SATA cable that's not yet working.
Altogether it's a retro HTPC with 1080p high-definition capabilities and enough grunt to play some (admittedly reasonably basic) games.  Part one of the video build log is below; check out drumboog's channel for the rest.
[via Netbooked]