NES Classic Edition available NOW from ThinkGeek (with details)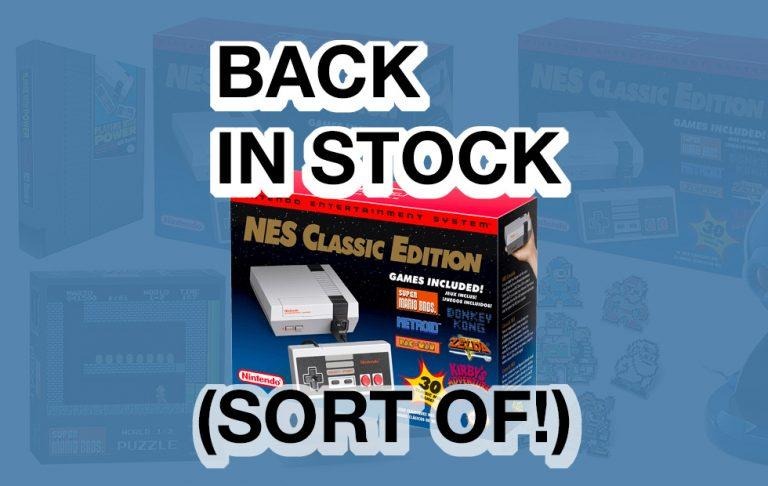 The NES Classic Edition is again available from ThinkGeek this afternoon, starting immediately if not soon. This sale is from a collection of units apparently acquired by what GameStop describes as "one of the buying ninjas at GameStop" – whatever that means. They'll be selling these original boxed Nintendo-made real-deal NES Classic Edition consoles for a price that's not the original, yet not quite the mega-massive markup we've grown to expect from eBay.
According to ThinkGeek, they were "bummed when we heard that Nintendo halted production of the NES Classic Edition and had no plans to produce it again. After Nintendo shipped the last of them back in April, we shed a tiny pixelated tear and waved a fond goodbye." They, like the rest of the gaming console and peripheral-selling universe, found the NES Classic in short supply.
"But then one of the buying ninjas at GameStop revealed they'd gotten their hands on a supply (sometimes it's good to have Corporate Overlords)," said ThinkGeek. Each NES Classic bundle sold by ThinkGeek will include some oddities that'll make the pricing a little bit easier to munch on. "With your super-awesome, hard-to-find, not-marked-up-on-eBay NES Classic Edition," said ThinkGeek, "you're going to score some bonus Nintendo goodies."
Each of the bundles listed above can be had in the NES Classic Bundles section of ThinkGeek right this minute – or if not, they're probably sold out. Or they've not yet gone on sale. So either cry about it or refresh your browser a bunch of times, and rejoice when you get the opportunity to tap or click.
To be clear, this is the same NES Classic that was offered up by Nintendo earlier this year. This console originally sold for a cool $59.99 USD. It sold out of retail locations around the world in a snap. The grand success of this console lent a hand to the possibility of an Super NES (SNES) Classic Edition, which should be coming very soon.