Need For Speed Heat Trailer Eclipsed By 'I Said Right Now' Meme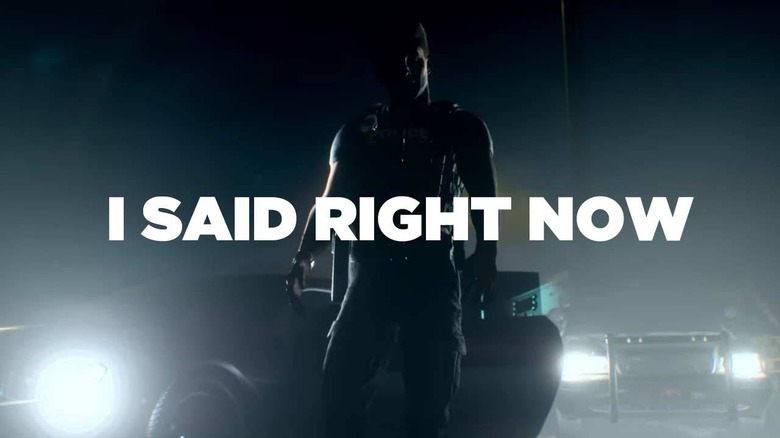 There's a new trailer for Need for Speed Heat, a racing game that's trying very hard to be Grand Theft Auto Vice City. That's GTA: Vice City, the vibe of that game, turned into a Sneed for Speed Heat game that'll be rolling out in November of 2019. But the real news here is the extremely viral nature of the meme embedded within the trailer – one you'll find at approximately 0:21 of the video. I should also mention TRIGGER WARNING here, because this police officer is essentially issuing a threat, one that (given the game's content outline) will most likely be a precursor to police brutality and physical harm.
The fellow (this police officer) in the video steps forward, mostly in darkness, and suggests that he'll need your car keys. At 0:21 in this trailer, this man barks the order "I said right now!" From there the rest of the trailer is all flashy colors and lights the likes of which make for an exciting driving action video game trailer.
The game was developed by the crew at Ghost Games. This developer team created the 2013 game Need for Speed Rivals, 2015's Need for Speed, and 2017's Need for Speed Payback. They've clearly done an OK job the last three times – or at least an OK-enough job that they're once again attached to the franchise.
With this newest trailer for the next game in the series, they've clearly hired a top-notch promoter for the video – someone who knew exactly what they were doing when they edited the video in such a way that "I SAID RIGHT NOW" would become the calling card of the game. Something like the Futurama's Fry meme "TAKE MY MONEY" – it just feels natural to post the video and say that you feel the same as that cop saying "I said right now", like you're demanding the game, right now.
There'll be a game available November 8th, 2019. There'll be a new gameplay trailer at Gamescom on Monday. We'll be bringing it all to you when embargoes drop!