NEC Wireless USB Chips Hit 480Mbps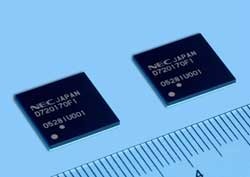 Your Wireless USB peripherals could be whipping along at a much faster rate before long, with NEC's announcement of their new uPD720171 Wireless USB PCI host controller.  The new controller can transfer data at up to 480Mbps within a maximum range of three meters, and will be included in both MiniCard or Half-Minicard expansion cards and ExpressCard formats.
The uPD720171 is NEC's second Wireless USB host controller, improving both on throughput and performance from the original.  At short range, the speed is theoretically comparable to a wired USB 2.0 connection.
NEC is currently shipping samples of the Wireless USB host controller to industry partners, priced at $10 each.  It's unlikely that individual customers will be able to take advantage of that price, but expect to see the faster chips show up in new notebooks soon.
Press Release:
NEC Electronics Expands Wireless USB Portfolio with New Host Controller

Higher Throughput, Higher Performance for Laptops

KAWASAKI, Japan & DUESSELDORF, Germany & SANTA CLARA, Calif. –(Business Wire)– Aug. 19, 2008 NEC Electronics today expanded its suite of Wireless USB devices with the introduction of the uPD720171 Wireless USB host controller. Building on the company's first host controller (part number uPD720170), the new uPD720171 controller for PCI Express(TM) bus interfaces, enables high-speed, wireless data transmission between PCs that have MiniCard or Half-Minicard expansion cards and PC peripheral devices such as wireless hubs, printers, external storage equipment and digital cameras. The new host controller also provides laptop computer connectivity through an ExpressCard(TM) slot. Providing greater throughput and higher performance than previous host devices, the uPD720171 controller enables consumers to enjoy wireless lifestyles while maintaining wired USB functionality and ease of use.

"As the consumer appetite for wireless connectivity increases, the industry is requiring reliable, standardized interface solutions that can transmit data at speeds equivalent to wired USB connections," said Yoshiyuki Tomoda, Group Manager, SoC Systems Division, NEC Electronics Corporation. "By providing these performance levels, our new uPD720171 host controller is helping bring the industry closer to mainstream adoption of advanced wireless technologies."

Certified by the USB Implementers Forum (USB-IF), the uPD720171 controller conforms to the Wireless USB 1.0 specification and also to the Wireless Host Controller Interface (WHCI) specification developed by Intel with support from Microsoft, NEC Corporation, Philips, Texas Instruments and other experts in Wireless USB technology.

Capabilities of Wireless USB

Developed by the Wireless USB Promoter Group, Wireless USB technology builds upon the current USB 2.0 standard, which has been hailed as the next-generation interface standard for computers and multimedia consumer electronics devices. The Wireless USB specifications supports data transfer rates of up to 480 megabits per second (Mbps) of data, comparable to wired USB 2.0 connections at close range. NEC Electronics' new controller can transfer up to 480 Mbps within a maximum range of three meters.

Unwiring the cable connection frees users from having to make cumbersome and unsightly wired connections and enables them to enjoy high-speed data access using Wireless USB. Currently, Wireless USB technology is making it possible for designers to expand the boundaries of computing and digital entertainment to discover new ways for consumers to enjoy digital media.

NEC Electronics has played a central role in making the current USB 2.0 one of the most successful interfaces in the history of personal computing. NEC Electronics is a USB-IF board member, which manages the compliance and certification program, branding, marketing and industry education of USB and Wireless USB technologies. Since launching volume production of USB 2.0 devices in 2000, NEC Electronics has shipped an industry-leading 150 million units worldwide.

Pricing and Availability

Samples of NEC Electronics' uPD720171 Wireless USB host controller are available now at US$10.00 each (pricing and availability are subject to change). Reference boards are also available upon request. More information about NEC Electronics' lineup of Wireless USB solutions can be found at http://www.necel.com/cwusb/en/newproducts.html.