NEC LifeTouch Android tablet "cloud communicator" revealed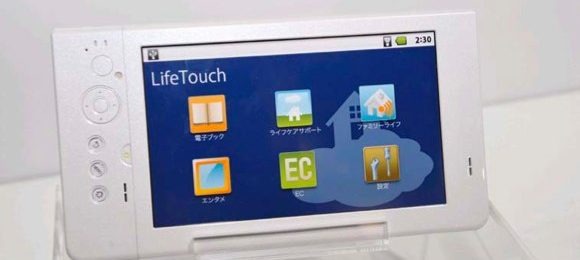 It's been a long time since NEC promised a cloud-centric tablet – over 12 months ago, in fact – but the NEC LifeTouch is finally near. A 7-inch WVGA touchscreen slate running Android 2.1 (it's described as "pen operable" so we're guessing NEC is using a resistive touchscreen), the LifeTouch is targeted at Japanese corporate customers who will use the tablet as a mobile email, shopping, communications and systems-monitoring device.
Inside there's an ARM Cortex A8 processor, 384MB of RAM and a 1GB ROM, along with WiFi b/g, Bluetooth 2.1+EDR, GPS and various sensors. You also get a 3-megapixel camera and a full-sized SDHC card slot, together with a microphone and stereo speakers. USB Host and USB Device ports, a voice-controlled browser and various hardware buttons round out the key specs.
The LifeTouch measures in at around 220 x 120 x 13.9 mm and weighs 370g; NEC expect around 8hrs of runtime from its battery, which isn't bad given the heavy emphasis on wireless data. No word on pricing, but the NEC LifeTouch should drop in Japan later on this month.
[via Android Community]