NEC LaVie Light netbook: my eyes, oh lord, my eyes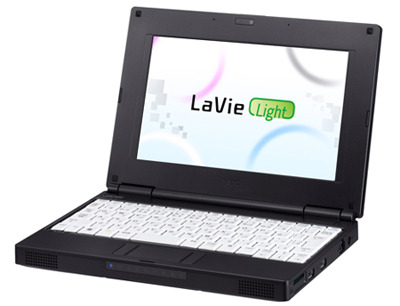 Take what appears to be plastic and case design left-over from an old VHS cassette, slap in a cheap looking keyboard and infuriating mouse, and then weep – yes, weep – to have designed the latest, tragic addition to the 8.9-inch netbook market.  What makes this particular model, the LaVie Light, even worse is that it's the handiwork of NEC, a company whom while we may not associate with high design, at least hasn't resorted to insulting our eyes in the past.
Under the blocky hood there's the usual suspects: an Intel 1.6GHz Atom N270 processor, 160GB hard-drive and 1GB of RAM.  OS is Windows XP Home, connectivity the same old WiFi b/g, a 1.3-megapixel webcam staring dolefully out at you from the screen bezel and an SD slot on the side. 
The only saving grace is the USB ports that stay powered even when the LaVie Light itself is switched off, so that you can recharge PMPs, phones and other gadgets.  So there you have it, a netbook so wretched that its one standout point only makes sense when the damn thing isn't running.  NEC have yet to release specific pricing, but expect it in the same ballpark as all other such netbooks.
[via Akihabara]