Neato XV-21 autonomous cleaning robot released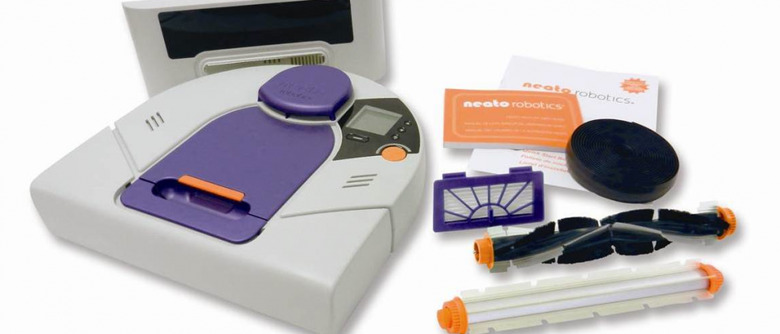 The next big thing in robot cleaners have arrived, and it comes from Neato Robotics, a group known for their ability to create strange and wonderful devices galore. This device is an automatic vacuum cleaner made specifically for pet owners as well as allergy sufferers. This robot has a bristled brush to pick up pet hair, dander, and fibers across any floor type you have to throw at it. This newest model has increased airflow and suction over past models, three times the fine dust that the company's standard model was able to pick up in fact, all of this due to its updated filter.
To see what the previous model looks like, have a peek at our own Chris Davies' full review of the Neato XV-15 Robot Vacuum. This newest version comes in at least one fabulously fashionable color combination, Misty White with purple highlights, and is made to be your ticket to "that neat, 'just cleaned' look" on surfaces throughout your home. As Warren Flick, CEO of Neato Robotics, Inc. notes,
"Our customers have increasingly asked us for a better way to pick up even more pet hair, dander and fine dust in their homes. The Neato XV-21 delivers on that market need with a combination of increased suction power and airflow and more than three times the fine dust pick-up of our standard filters. We continue to focus on delivering new, innovative products that save customers time and keep homes neat, clean and healthy." – Flick
This device will be available for purchase for $429 MSRP at the end of April and you'll be able to pick it up straight from Neato Robotics website at first and retail partners soon after. You'll be able to pick up the new pet and allergy filter for $29.99 MSRP and the Pet and Allergy Upgrade Kit with new bristled brush for $59.99. Both of these additions can be used with all other existing Neato Robotics automatic vacuum cleaners with a simple download of the version 2.6 firmware upgrade which you can get direct from Neato Robotics and install through the back of the device via USB.