NAVIst III Touchscreen GPS With Hard-Drive, DVD & Digital TV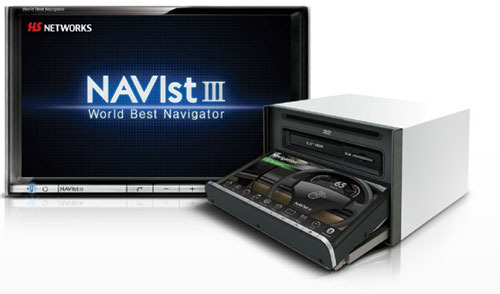 The chances of finding this GPS unit in your local ICE dealership are pretty low, but that looks to be our loss: HS Networks' NAVIst III is a double-DIN touchscreen GPS system with optical drive, room for a 2.5-inch SATA hard-drive in a removable caddy, and an SD/SDHC slot.  It's controlled by a 6.95-inch, 800 x 400 touch display, which slides down to reveal the drives.
Video demo of the NAVIst III after the cut
Dual AU 1250 600MHZ processors handle everything from navigation, DVD and digital TV playback to gaming, MP3 playback and the Dolby Pro-Logic and DTS surround sound.  There's also an FM/AM radio, photo viewer, DivX player, Bluetooth for wireless audio streaming, and an iPod-compatible cable. 
External secondary screens – with independent audio – are optional, as is the ability to route video from a rear reversing camera to the main display.  The integrated amplifier is good for five channels of 50W each.  A USB 2.0 host port allows you to hook up PMPs and digital cameras to directly transfer media.
No word on pricing or availability, sadly; HS are currently looking for distributors.
[via NaviGadget]