Navdy HUD: Like your phone and a fighter jet had a baby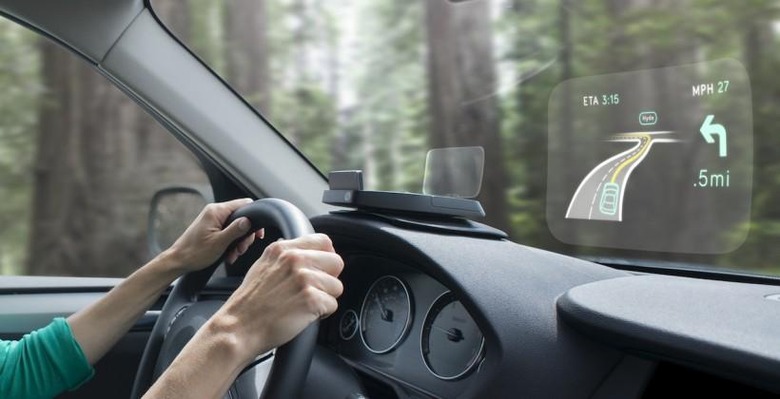 Head-up displays aren't just the preserve of fighter jets any more, but if you're not in the market for a new car then Navdy's aftermarket device – billed as Google Glass for your dashboard – may be the answer. Not only a HUD, projecting virtual images that look like they're floating roughly six feet in front of the windshield, but a gesture control system, Navdy pipes messages, calls, and navigation from your smartphone to your line of sight, though that's only the start of it.
Rather than glancing at your phone every time it beeps or vibrates, so Navdy's argument goes, better to have everything projected up in front of you instead. If a call comes in, Caller ID shows who it is, and it can be answered by waving your hand left or rejected by swiping right.
Voice recognition, meanwhile, uses Google's own system to trigger calls, dictate texts, or even more complex functionality like sending out Twitter updates. Navdy is building all the app support in-house initially, to make sure they're both safe and compatible with the gesture system, and there'll be a parental mode to lock out anything too distracting.
Out of the box, Navdy will use Google Maps for directions, Google Now, Siri, and most music player apps. It'll also show effectively any notification from your phone, though not all will be actionable. A split-screen view can keep both navigation and notifications on-screen simultaneously, while Navdy will show gesture tips right next to the controls for things like music skipping.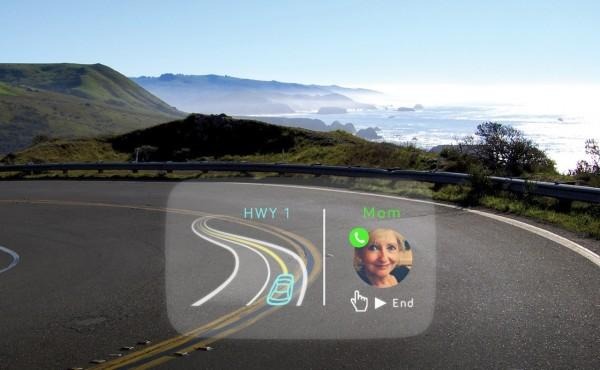 Inside, there's a 5.1-inch transparent HUD display and an IR camera used for touchless control, an accelerometer, digital compass, and ambient light sensor, and WiFi b/g/n along with Bluetooth 4.0. There's also an internal speaker and noise-canceling microphone, though Bluetooth audio, audio through the mini-USB port, and a 3.5mm jack are all options too.
Android 4.4 runs on an unspecified dualcore processor, while there's an OBD-II connection that hooks into the dashboard and provides data from the car as well as power to the unit itself. From that, Navdy can warn things like when the next engine service needs to be carried out, what speed you're traveling at, and when the oil needs replacing, much as we've seen from Automatic.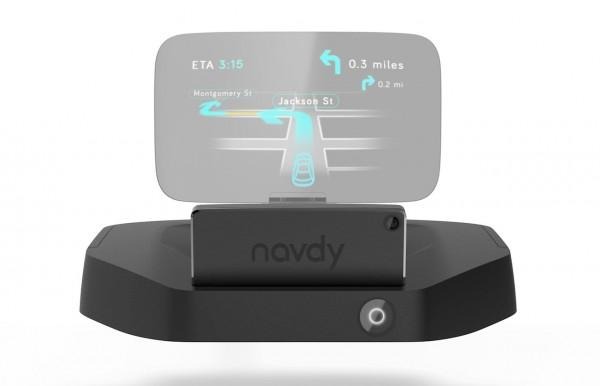 It's not the first time an aftermarket HUD option has been provided, mind. Garmin has offered its own HUD system for some time now, hooking up wirelessly to a navigation app on your phone and projecting basic directions and speed information onto the windshield.
Functionally it's far less comprehensive than Navdy, though at $179.99 it's also cheaper. Navdy is taking preorders now at $299, though expects its HUD to come in at $499 retail when it ships in early 2015.
SOURCE Navdy