NASA's trio of Android "PhoneSats" all operational: orbit tests under way

If you weren't already aware, you should know that there are up to and including three HTC Nexus One smartphones floating above your head right this minute in part of a NASA mission to prove (or disprove) the viability of low-cost space exploration "PhoneSats". Each of these low-cost satellites was aboard the first flight of Orbital Science Corporation's Antares rocket, launched after this rocket took off from NASA's Wallops Island Flight Facility in Virginia just two days ago.
Each of these PhoneSats is set to remain in orbit around our planet Earth for a period of up to two weeks. All three of the units have had transmissions received by multiple ground stations thus far, this ringing up as great news for those running the mission from Ames Research Center in Moffett Field, California.
"It's always great to see a space technology mission make it to orbit — the high frontier is the ultimate testing ground for new and innovative space technologies of the future. Smartphones offer a wealth of potential capabilities for flying small, low-cost, powerful satellites for atmospheric or Earth science, communications, or other space-born applications. They also may open space to a whole new generation of commercial, academic and citizen-space users." – NASA associate administrator for space technology in Washington, Michael Gazarik
Each of the structures that make up a PhoneSat includes a standard cubical structure approximately 4-inches square, an HTC Nexus One smartphone, and s set of sensors. Each setup also includes a lithium-ion battery that's significantly larger than that of the original HTC Nexus One as well as a radio with significantly more power than the original smartphone provided so that messages can be sent from high distances above the Earth.
The video above shows an early test launch of an HTC Nexus One launched with a balloon back in 2012 – you're seeing this video from the perspective of the phone, mind you.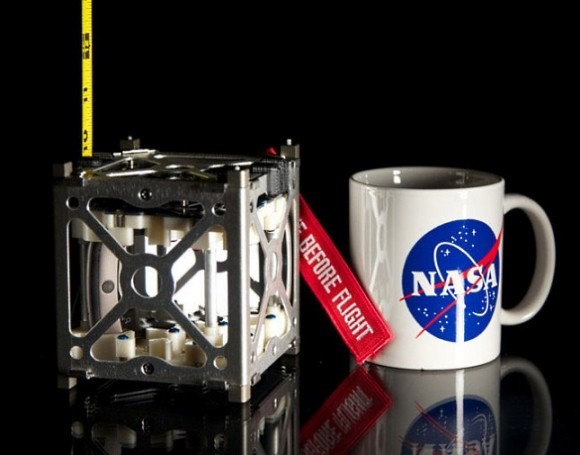 The original HTC Nexus One provides many of the features needed to create the NASA PhoneSat "off the shelf" unit. Each PhoneSat employs a series of miniature sensors, relatively high-resolution cameras, GPS receivers, and more – and whatever else the mission requires that the HTC Nexus One doesn't provide.
Each of the units launched in this mission cost NASA engineers between $3,500 and $7,000 USD – significantly less expensive compared to essentially any other type of satellite. These costs are relatively low due to NASA engineers' use of mass-produced commercial hardware such as – you guessed it – the HTC Nexus One.
We'll continue watching for this set of three Android-toting amigos as they make their trip through our atmosphere and back towards the planet over the next few days and – hopefully – weeks as well.
[via Cellular News]