NASA's Robo-Glove up for license by Iron Man and you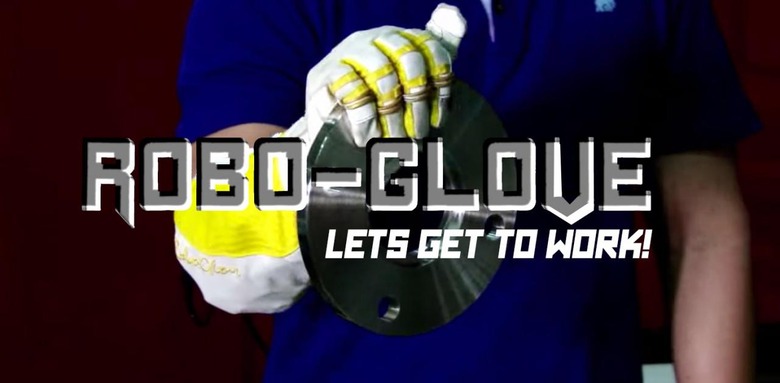 The teams at NASA and GM behind the Robonaut 2's Robo-Glove have made the decision to allow licensing of their technology for public use. The glove is made to amplify the abilities of the wearer, not entirely unlike that of the glove of Iron Man in the Marvel Comics universe. This glove allows its user to blast through tasks that require high hand strength – grasping and repetitive tasks especially.
The Robo-Glove is a "wearable human grasp assist device" made for tightly gripping tools and other heavy-duty items for long periods of time. Generally tasks such as these would inflict strain or discomfort for the worker. With Robo-Glove, the task is placed on a set of three actuators that pull on synthetic tendons which run through the fingers of the glove.
Reducing the grasping force needed to accomplish repetitive tasks means Robo-Glove can assist users with limited arm and hand strength. Users who've had injuries and are working to rehabilitate themselves can also benefit from the prosthetic assistance offered by Robo-Glove.
The patents included in Robo-Glove up for licensing are as follows:
• Human Grasp Assist Device and Method of Use (MSC-24741-1)
• Human Grasp Assist Controls (MSC-25320-1)
• Human Grasp Assist Soft (MSC-25318-1)
• Human Grasp Assist Soft (MSC-25318-2)
• Human Grasp Assist (MSC-25319-1)
Each of the above titles are linked to their USA-based patent listings, save the "Human Grasp Assist Soft" which has only a Japanese patent associated with it.
This Robo-Glove is just one piece of the larger Robonaut environment, one whose storied past is going to continue to be opened to licensing in the future. More Iron Man action means better bodies for us all!
VIA: Michael Interbartolo