NASA's newest Pluto photos are breathtaking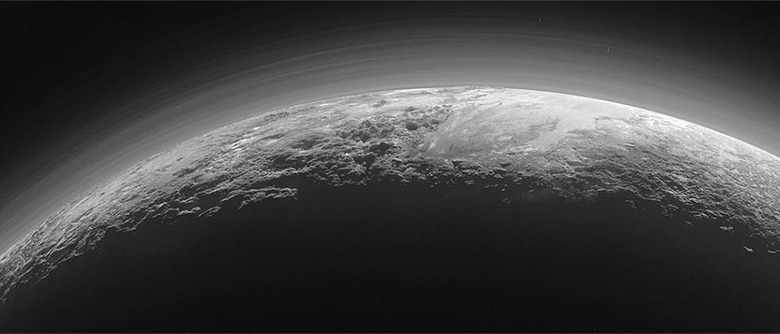 Pluto photos continue to be shipped from New Horizon's flyby completed earlier this year, and today's are just fantastic. What you're about to see is a set of photo captured just 15 minutes after the craft's closest approach to Pluto, centering in on the plains informally known as Sputnik Planum (right) and the informally named Norgay Montes mountains on the left near the Hillary Montes near the skyline in the upper left. This first photo was captured at a distance of 11,000 miles (18,000 kilometers) from Pluto, and the photo shows a scene approximately 780 miles (1,250 kilometers) wide.
The next photo you're about to see shows Pluto's frozen plains shown just 15 minutes after closest approach. These plains were also captured on July 14th, 2015 – the same day as the photo above. The smooth area to the right is, once again, Sputnik Planum. You're once again seeing a scene very similar to what you see above, this time from a slightly different angle. This scene is around 230 miles (380 kilometers) across.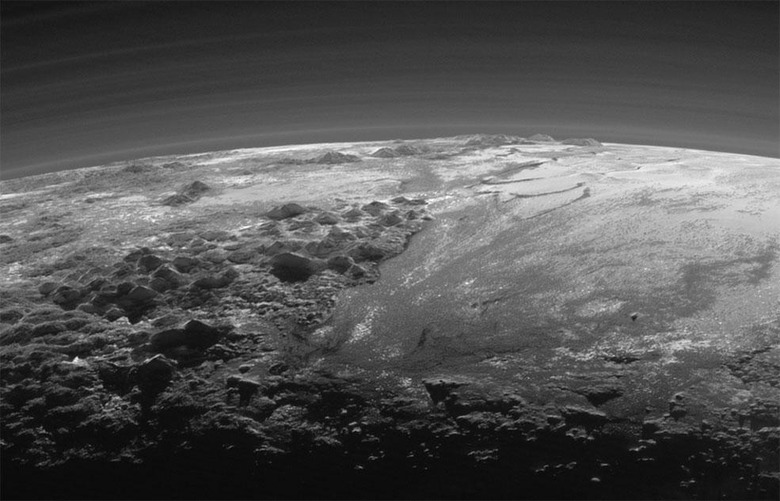 The third photo you'll see here shows the "heart" of Pluto. This is the section of the orb that we came to know well earlier this year for the first time, as Pluto welcomed NASA and the rest of the world with a big friendly bit of love.
The most massive piece of the heart is also part of Sputnik Planum – mostly on its left side. NASA suggests that this area may be covered in nitrogen-based ice.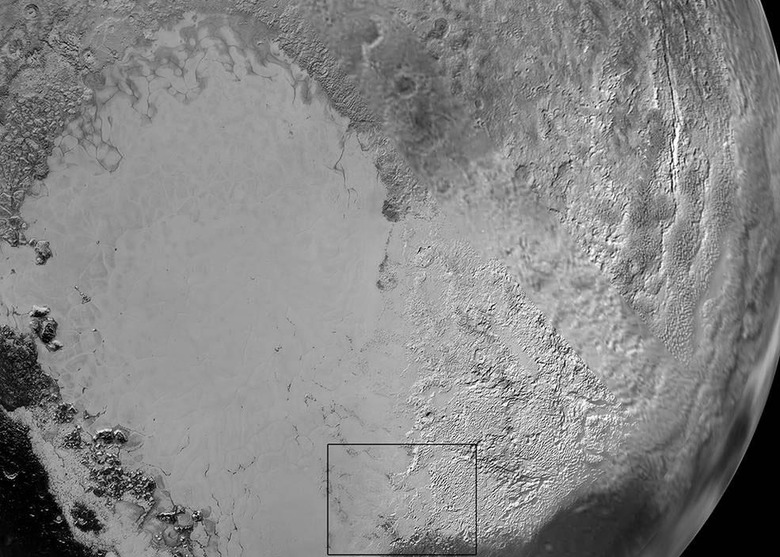 Alan Howard, University of Virginia's Geology, Geophysics, and Imaging team member for this mission with NASA, spoke up on these findings. "We did not expect to find hints of a nitrogen-based glacial cycle on Pluto operating in the frigid conditions of the outer solar system," said Howard.
"Driven by dim sunlight, this would be directly comparable to the hydrological cycle that feeds ice caps on Earth, where water is evaporated from the oceans, falls as snow, and returns to the seas through glacial flow. Pluto is surprisingly Earth-like in this regard, and no one predicted it."
Check the timeline below for additional views of Pluto delivered by New Horizons over the past several weeks!