Early last year, NASA released some images styled after retro travel posters, each of the three presenting artistic representations of alien landscapes and the activities one might do in those places. They were a big hit with the public, with space enthusiasts and dreamers alike having them printed as posters. Thanks to Invisible Creatures, we've been graced with three new posters, each of which the studio had created for NASA as part of an internal project.
The images were created and posted by Invisible Creatures, a studio founded and run by Don and Ryan Clark in Seattle. The duo have created designs for a number of clients, including many well known ones, and NASA is counted among them. According to a recent post, NASA JPL visual strategist Joby Harris asked them to create some travel-styled posters for NASA, which would be part of a "Visions of the Future" 2016 calendar given to NASA and JPL workers and some other lucky individuals.
The duo say NASA plans to release the artwork at some point as free downloads on the JPL website, but ahead of that has given the studio a thumbs-up for selling prints and posters of some of the artwork.
First among the pieces is "The Grand Tour," a poster inspired by the Voyager mission, the spacecraft of which is still in operation today. The poster is cream colored with an intensely colorful body and the planets Voyager 'toured' during its time in space. The website contains close-up shots of different elements of the design, so be sure to check it out for more details.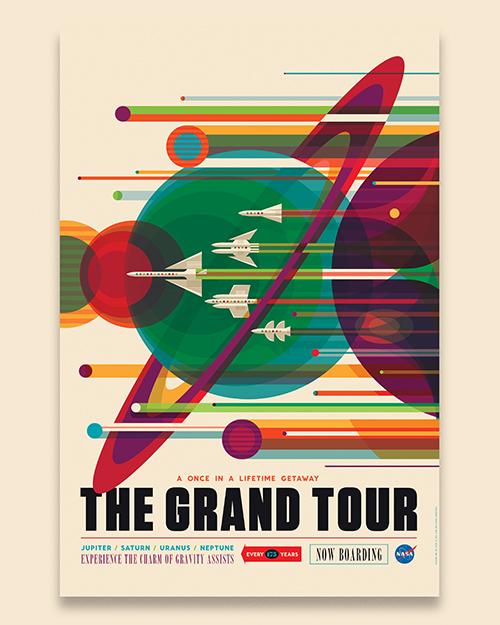 Next is the cooler (in color) "Enceladus" poster, which according to Invisible Creatures is inspired by one of Cassini mission's biggest findings: the icy jets and what they mean for Saturn's E-ring. Likewise, this poster has been shown off in close-up details by Invisible Creatures.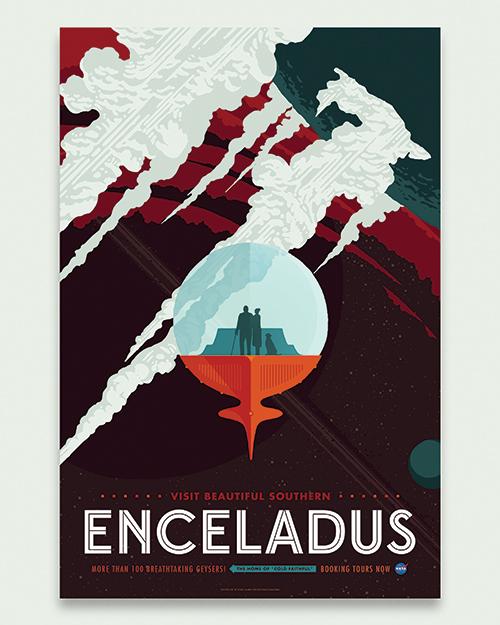 Last but not least is the "Mars" posters, which, fittingly, has a bright red background (it is the Red Planet, after all). Bits and pieces of NASA's past and present Mars efforts are teased in the poster (it looks like Curiosity is in the bottom left corner); the design also "imagines a future day when we have achieved our vision of human exploration of Mars," a day no doubt growing closer every day.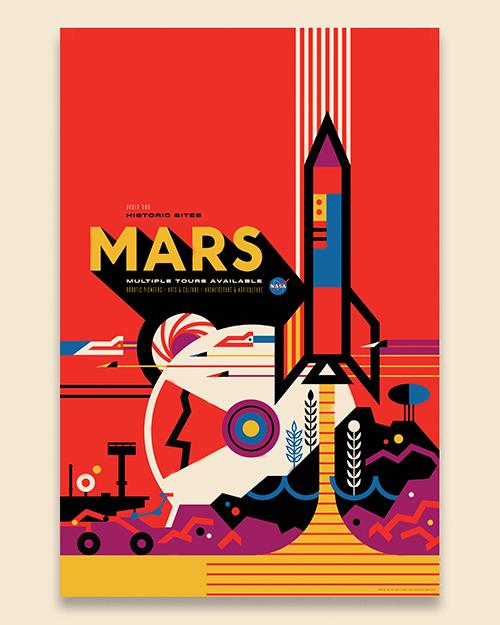 It isn't clear what other artwork was included in NASA's calendar, nor when it will be making the downloads available (aside from "soon"), but we'll be sure to let you know once they arrive. Check out the timeline below for more NASA news!
SOURCE: The Verge