It's been some time now since NASA's New Horizons spacecraft completed its flyby of dwarf planet Pluto, but the project is still producing amazing insights and images. Following recent photos of mountainous regions and a potential ice volcano, NASA has now published an image of the North Pole region, revealing a pockmarked topography full of frozen canyons and valleys. To get a better understanding of just how large and deep all these pits are, the widest area of the planet seen in this photo measures 21,000 miles across.
NASA says that the image was captured by the New Horizons probe back in July, just 45 minutes before making its closest flyby of Pluto. The agency has noted that while lower elevations are often seen as blueish-gray, the North Pole region has high elevations that appear as a shade of yellow, which has not been seen elsewhere on the dwarf planet.
An annotated version of the new photo was released, seen below, highlighting several areas to explain the different landforms. The yellow section is said to be the region's largest canyon, measuring 45 miles wide. The blue line within that is a valley along the bottom, while the green areas are smaller canyons, each running 6 miles wide.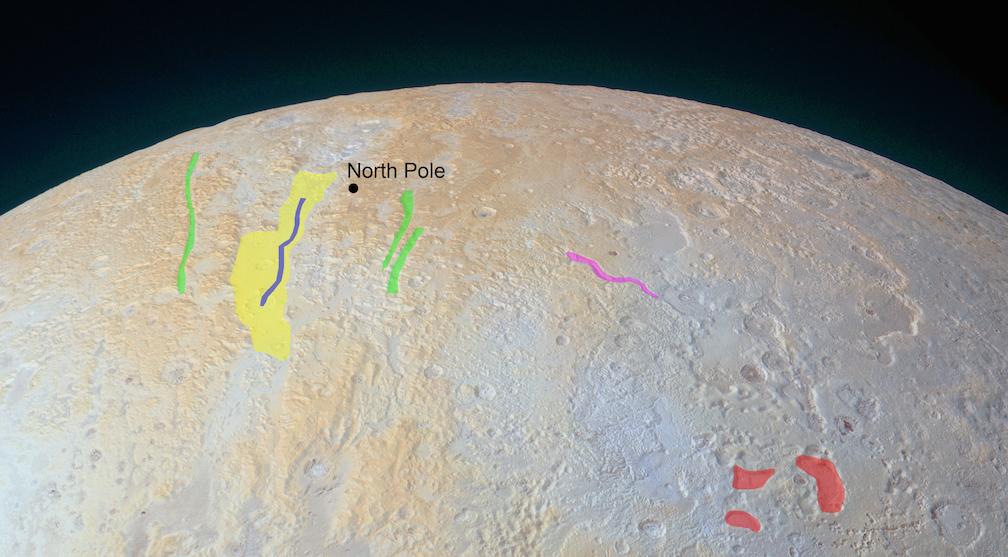 The pink section is yet another valley, while the red areas are pits believed to have been caused by the ground collapsing after sub-surface ice melted or sublimated.
Interpreting the data from this image as a whole, scientists believe the canyons and valley in the North Pole region are some of Pluto's oldest, as there's less definition to the topography as in other regions. Another discovery is that while most of Pluto's surface is made up of nitrogen ice, the polar region contains a higher amount of methane ice.
SOURCE: NASA