These nine American astronauts will make commercial spaceflight history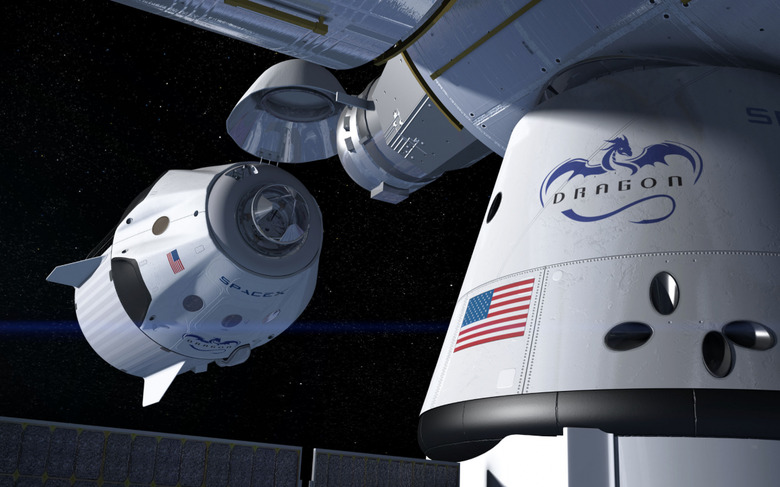 NASA has revealed the nine astronauts who will man the first commercial spaceflights, as the US prepares to once again begin launching manned missions after retiring the Space Shuttle. The crews will be split between two of the commercial projects NASA is counting on to make space travel more accessible and, vitally, more affordable.
One of those is SpaceX, Elon Musk's company, which will launch Crew Dragon, while the other is Boeing's Starliner project. Announced today is the initial crew manifest for both the test flight and the first mission each company will undertake.
The Boeing Starliner test flight will see the craft launch on a United Launch Alliance Atlas V rocket, from Cape Canaveral's Space Launch Complex 41 in Florida. Three crew have been confirmed. Eric Boe is a former Air Force fighter pilot and test pilot, who previously piloted space shuttle Endeavour on the STS-126 mission and Discovery on its final flight, STS-133.
He'll be joined by Christoner Ferguson, a retired Navy captain. He, too, has a history on the space shuttle: Ferguson piloted Atlantis for STS-115, was the commander of Endeavour on STS-126, and Atlantis for STS-135, the final space shuttle mission. He returns to NASA after retiring in 2011.
Finally, Nicole Aunapu Mann is a Marine Corps lieutenant, and will be making her first trip to space. She's no stranger to high-speed flight, however, being an F/A-18 test pilot with more than 2,500 flight hours across over 25 aircraft.
As for the SpaceX Crew Dragon test flight, that will launch atop a SpaceX Falcon 9 rocket from Launch Complex 39A at the Kennedy Space Center in Florida. It will be led by Robert Behnken, a flight test engineer and Air Force colonel, who flew on Endeavour twice and has completed more than 37 hours of spacewalks spread across six individual excursions.
Also onboard will be Douglas Hurley, a former Marine Corps test pilot and colonel who joined NASA in 2000. He was the pilot of Endeavor for STS-127 and Atlantis for STS-135.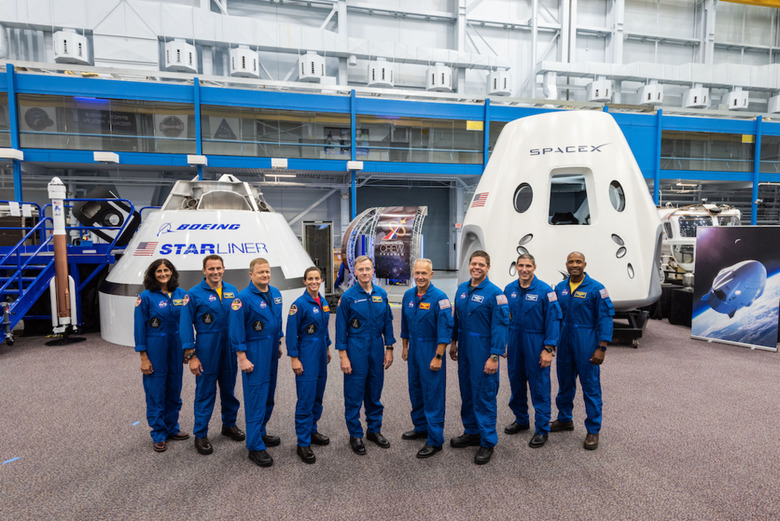 ABOVE, via NASA: "The astronauts are, from left to right: Sunita Williams, Josh Cassada, Eric Boe, Nicole Mann, Christopher Ferguson, Douglas Hurley, Robert Behnken, Michael Hopkins and Victor Glover."
Assuming both test flights go to plan, NASA has contracted six missions from each company, with as many as four astronauts expected to be onboard each mission. Though that will require final certification for International Space Station deliveries first, the space agency has already confirmed partial crews for those first missions.
For Starliner, that will see Navy commander and test pilot Josh Cassada make his first spaceflight, joined by Sunita Williams, a former Navy test pilot and captain before joining NASA. Williams already spent 322 days on the ISS, as part of Expeditions 14/15 and Expeditions 32/33, has commanded the space station, and performed seven spacewalks.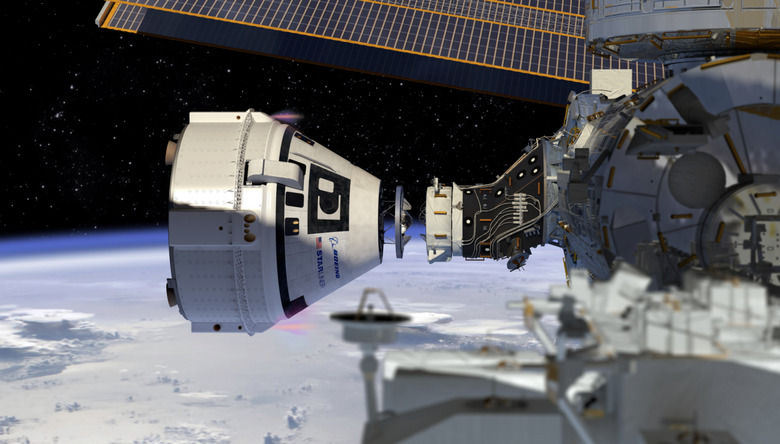 For Crew Dragon, the currently confirmed crew includes Navy commander, aviator, and test pilot Victor Glover. It'll be his first spaceflight, though he has a wide range of experience with combat missions and testing aircraft. Also onboard will be Air Force colonel Michael Hopkins, selected to be a NASA astronaut in 2009, and who has already spent 166 days on the International Space Station for Expeditions 37/38, along with conducting two spacewalks.
NASA says that its astronauts will be joined by other international crew members, to be announced later on. "This accomplished group of American astronauts, flying on new spacecraft developed by our commercial partners Boeing and SpaceX, will launch a new era of human spaceflight," NASA Administrator Jim Bridenstine said of the selections. "Today's announcement advances our great American vision and strengthens the nation's leadership in space.