The NASA Spacecraft 3D app has been updated today to allow all iOS and Android users take part in an experience which puts spacecraft in their living room. This app utilizes augmented reality in a way that the creators of the PlayRoom for PS4's Camera would be proud of. Place a ship here, run it around there, and take photos all the while.
This release coincides with the second anniversary of the Mars Science Laboratory's Curiosity rover's landing on the planet Mars. Inside the app, users are able to select a craft and place it in their world with augmented reality technology through their smartphone's camera.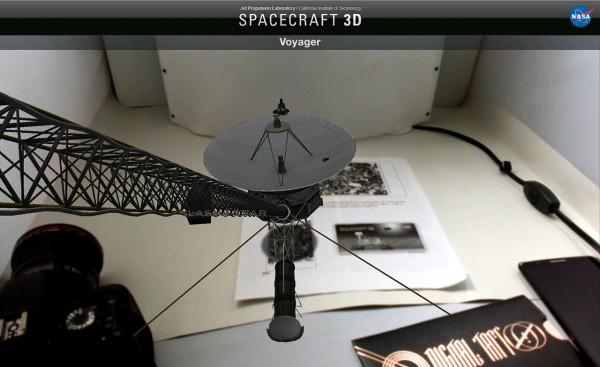 To create the AR experience, users are invited to download and print a 3D target PDF file that they'll be able to place anywhere they like. The AR target at the head of this document shows grains from an Oregon sand dune that NASA tells us was "taken by a test version of the Mars Hand Lens Imager (MAHLI) for the Curiosity rover."
This target PDF can also be downloaded or emailed from the app itself – they make it extremely easy to make this whole experience work for you.
As you'll see in our hands-on video here, the apps UI is simple and requires little prior knowledge of anything technical. Tap here, tap there, and bang! You've got some spaceships sitting on your desktop.
From Mars, you'll have the Curiosity rover, MSL Descent Stage, Maven, Mars Reconnaissance Orbiter, Mars Exploration Rover, and Mars Odyssey. The "Earth" section allows you access to SWOT, NISAR, Jason-3, SMAP, CloudSat, OCO-2, and Aquarius.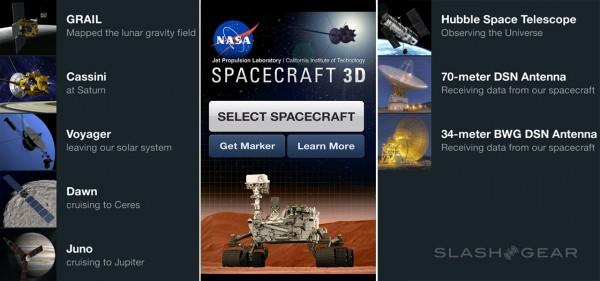 There's a "Planetary" section of the app which includes GRAIL, Cassini, Voyager, Dawn, and Juno. The "Other" section includes a 34-meter BWG DSN Antenna, 70-meter DSN Antenna, and the Hubble Space Telescope. If you choose "Pick by Marker", you'll get a spacecraft based on which image your smartphone or tablet's camera is looking at at the time.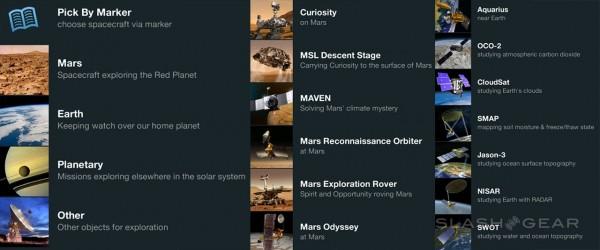 This app is free, of course, and is available through NASA's app collection listing. You'll want to scroll down to the app "Spacecraft 3D" and give it a tap.