Narrative Clip: Glass, wearables, and the next Memoto chapter with CEO Martin Källström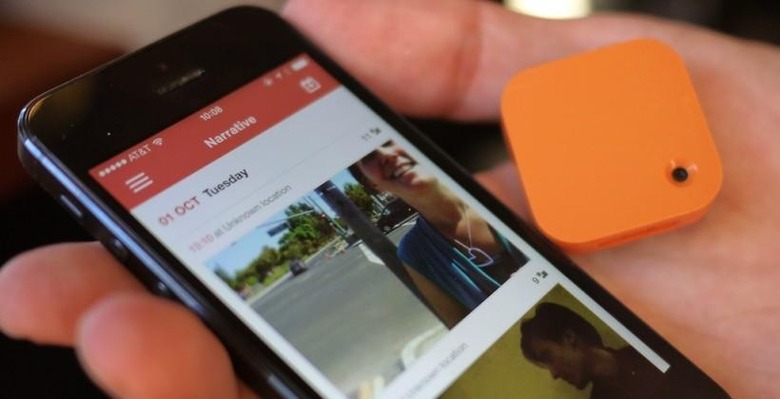 Three million dollars in the bank, a new name – after a little trademark tussling with Motorola – and less than a month from shipping: things have suddenly become very exciting for Narrative, the freshly rebranded Memoto lifelogging camera project. After raising more than eleven times the target amount in its initial Kickstarter campaign, hardware issues saw Memoto miss its February 2013 delivery estimate and effectively have to redesign every aspect of its camera and software to satisfy the goal of a life-logger that snaps a photo every thirty seconds and then automatically gathers the best up into a memorable moments. It's a long way from that to shipping, not to mention a multi-million funding round, and so we sat down with Martin Källström, CEO and co-founder, to find out just where Narrative's story is up to today.
Narrative saved up three pieces of big news for today. First, the name change, switching from the original Memoto to the less legally-contentious Narrative, after Motorola brandished its swathe of MOTO-related trademarks and left no doubt that it was unwilling to let the camera startup use its original choice. Then there was the funding round, with Narrative securing the backing of True Ventures – one of the firms that bankrolled MakerBot and Fitbit, among others – to the tune of $3m.
Most exciting for wearables fans, however, is the third bullet point: a ship date for the camera itself. Now called the Narrative Clip, deliveries will begin on November 1st, starting with those who backed the project on Kickstarter and then moving on to anybody who has preordered it through the Memoto site in the roughly twelve months since the campaign ended.
The camera they'll receive isn't perfect, Källström is the first to admit. "You could describe it in different ways" he explained to us. "You could say we are in crunch-mode, because we don't know what is going to happen, at all. There's so many things that could go wrong, there's so many things that could be really awesome. It's really important to make the decision when you finally say "it's ready" or "it's ready enough". When you work with really good engineers they are – and they need to be – perfectionists. So they can be never-done if you allow them to be."
Most obvious to users will be one key omission. "In the app for instance, we've had to remove the search function for now, because it doesn't yet work properly, so we will launch without search and then add that in when it works properly. At launch it will be based more on the chronology of things, like dates, the timeline and so-on" Källström said. While the images themselves will be geotagged, there won't initially be any functionality to browse moment clusters by location.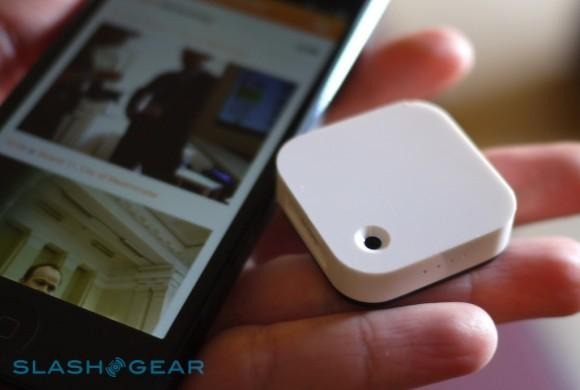 "Of course, that's not the full application – we don't leverage the GPS at all – and that's very sad," Martin concedes. "But it's more important to get people using it. There are so many bugs to be ironed out, we need to get it out there so that we don't spend time on details, and bells & whistles, before we verify that the entire thing works at the baseline."
Narrative's caution is in part down to the different nature – and expectations – around hardware and software. "What we're doing is that we're starting to ship on November 1st, we have the goal to have everything shipped before Christmas" the CEO told us. "But if there are problems along the way – if there are serious problems about how the backend scales, for example, or about the camera itself; in the worst case, if you need to recall the device – we will be careful at the start, see that things are working, ramp up the rollout. To be able to have everything out before Christmas is a very tight schedule."
Around 2,250 cameras are headed to Kickstarter backers, and around 3,000 preorders have been placed in the intervening months since the campaign closed. "So we have around 5,500 and 6,000 cameras that are going to ship, starting November 1st" Källström counted out. "The first week will be a very small amount of cameras. We have a stock of components to build a lot more cameras, the goal is to get to immediate delivery of new orders. To be able to have orders come in and immediately ship them out."
If the hardware has to be just right, the software can go through more frequent iterations once it's in the wild. "The camera ships with the app but also with an uploader application for your laptop. The OS X version of that is completed, and the Windows version will hopefully be completed for November, or during November; we're not sure about the Windows version of that" Källström admitted. "So, we will push out the updates of the app, and the uploader, and the camera firmware as often as we have completed stuff that is thoroughly quality assured; we don't have a fixed release cycle set. We will have major releases and then do updates in-between."
Part of the reason for the Narrative team to be holding its breath is that, even with all the internal testing in the world, there's no telling what actual users will encounter. Problems that a team intimately familiar with a device would never come across have a habit of quickly surfacing when it falls into new hands.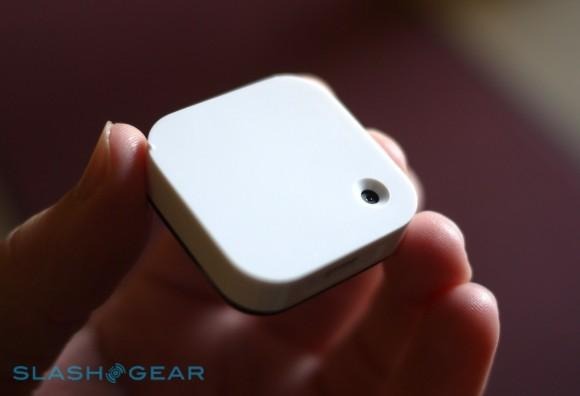 "There's this big spectrum of us having to spend all the time on bugs and communications on why things aren't working," Martin laughed, "to, like, everything is working perfectly and we can spend all our time on communicating "now we have all this awesome stuff for you", you can have search on locations, you can share within the app. We don't know what it will be like in two months time: heaven or hell. No, but we know it will not be flawless, there will be lots of issue that we need to fix."
One of those issues won't be a protracted legal case with Motorola. The Google-owned phone company apparently contacted Memoto back in the beginning, pointing out the trademark confusion, but Källström and his team put dealing with it on the back-burner as they worked on the hardware and services instead. Hopes that Motorola might lose interest and go away faded, however; as the CEO tactfully put it, he was "adamantly notified" that the conflict wouldn't be accepted.
Relations between Narrative and Motorola are good, he insists, and he's grateful that the big phone firm didn't hound the startup to quickly pick a new name. Instead, they spent some time trying to figure out exactly what the new identity should be. After all, as Martin joked, "if Apple can be "Apple", then we can be anything."
In fact, though, the new name might describe the company – and its ethos – more accurately than the old one ever did. "We took the chance, when we had to change the name, because it was kind of a problem that this was the Memoto" Källström said, holding up the clip-on camera. "Whereas now this is Narrative [points to app] and this is the Narrative Clip. It's sort of the way it should be: we will come up with other form factors, other kinds of devices, but we won't have a whole different portfolio of backends and apps. Users will have the one Narrative."
That focus not only on hardware but on the software framework that surrounds it is what differentiates Narrative from, say, the regular stream of similar wearable cameras that sprung up on Kickstarter and other crowdfunding sites as the Clip team worked. Some had higher resolution cameras; others supported video; integrated wireless options, like Bluetooth or WiFi, were also common.
What they didn't have, Källström points out, was the cloud-level processing that sifts through the roughly 2,000 photos captured each day and picks out the best. Groups of themed shots are automatically pulled together into "moments", saving users from doing manual organization that, frankly, is unlikely to ever be completed with the AI's help.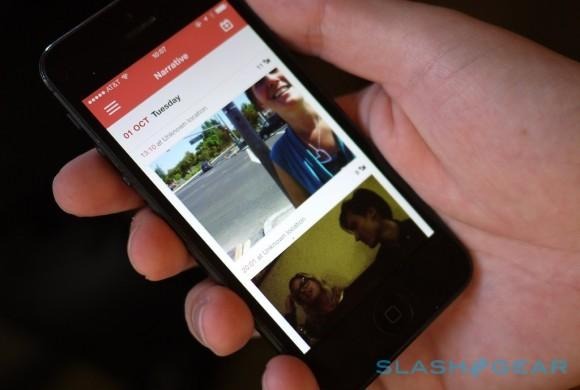 Interestingly, though, Narrative isn't looking to use its processing as a way to squash rivals, but to try to embrace them. The Narrative Clip is already expected to be just the first of a family of products from the company, but Källström envisages a situation where it could be opened up to step-siblings too.
"What I would like to do is to make all of these projects which have similar scope on the hardware side, to make like a directory of them, and say "this is how you use them with the Narrative app" and make an API or an SDK that allows us to leverage other devices as well, like GoPro or Glass" he explained to us.
"We haven't talked about how that will work in reality, because it depends on how much the user experience in the end will rely on, for example, the GPS. Because so few of the other cameras have GPS for geotagging of the photos. So, if we find that a big part of the user experience is the GPS then maybe it would be too cumbersome to have the fallback, in the software, for both cases: for when it has location and when it doesn't have it. So I'm not sure when we would be able to support other devices, and we're not ready to make that commitment, but it would be really really cool to be able to do so."
Having that flexibility to embrace rivals rather than ignore them is made easier when you have $3m in the bank. The True Ventures funding, almost six times what Narrative made from the original Kickstarter, is going to be about liberation and R&D, Källström told us. "What you're able to do is work a bit more long term in our focus. We don't have to rely on generating sales the next month: we have the comfort of having at least eighteen months in the bank now, no matter how sales are doing."
"It's hard to illustrate how much of a difference that makes. It's like the entire company can be much more... you think differently, it's not like the sales next month that matters to us, or when you know that you only have three months of cash in the bank. And for me personally it's like a world of difference, because when you know you have less than six months in the bank then I have to work full time on remedying that, because there's a six month cycle on that at any level. But now I have at least half a year on building the company, building the product, making sure everything works, before I potentially need to go out and do another financing round."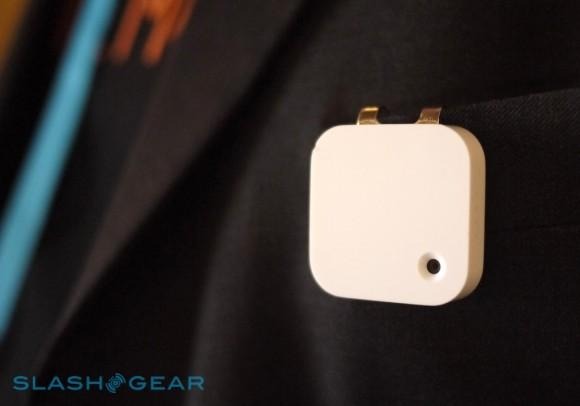 Building a product hasn't come easily, the Narrative co-founder admitted. "It's easy to forget for us that we've not only built the product and the service, but a company. Most of the team started in September last year, so the team were completely new, and we had a prototype of both the hardware and the software," he recounted, "and what we realized now is that we've thrown away every line of code that was written a year ago, and none of the hardware prototype remains."
"Of course, that is a big part of why it has taken more time than we expected to get here, to start shipping. In reality, the prototypes we had were not able to scale to the full, satisfactory user experience, so we rebuilt it from the ground up. That was not something we decided to do, to rewrite it, it's just that we gradually rewrote each line of code, and now nothing remains any more... not even a name! "
Back when we first saw the Clip in June of this year, it looked just like it does today. Inside, though, it's a very different story: a lot of minute changes that add up to what's effectively completely different hardware.
"What happened was, in the first integration, we were planning to use a small GPS antenna that was 2 x 3 mm and actually uses the PCB as the real antenna, but that didn't work at all: it was either too small, or too dense, the density of the components was too high" Källström explained. "So we worked with antenna experts in Sweden on a wire antenna, that goes along the top of the camera, with a different PCB that goes over the top and covers two-thirds of the camera inside."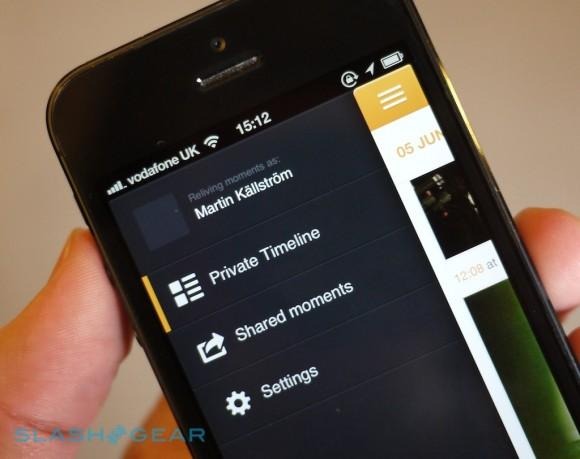 "And that antenna worked excellently inside, in the lab. Even inside the camera, with the PCB, it was excellent. And then, when we disconnected it from the lab equipment and put it inside the camera, and turned it on, it didn't work at all. There was no signal coming out of the GPS antenna. So we wired the antenna not into the PCB but into the lab equipment, and we could see that when the electronics of the camera was shut off, the antenna worked perfectly; when the camera was turned on, the antenna didn't work at all. There was a signal there, but it was completely drowned out with noise. The casing was a perfect echo chamber for the electronic waves, so we had a completely abstract process trying to remedy it by moving the components around the PCB."
What would've been easy to do, he points out, is follow a pattern of many Kickstarter projects encountering unexpected delays: offer new features to apologize. In fact, the Narrative Clip only got one unexpected hardware bonus from the internal redesign, a digital compass.
"I think what we've done well is to not add more promises onto the ones that we've already made" Martin argued. "Because if you excuse your delay with "yeah, but now we can add this stuff into it as well, and this stuff" then you can end up never being done. We need to find the balance: now it's time to put this thing into the market, and learn from that, so we can prioritize the features and issues that are creating most value for people."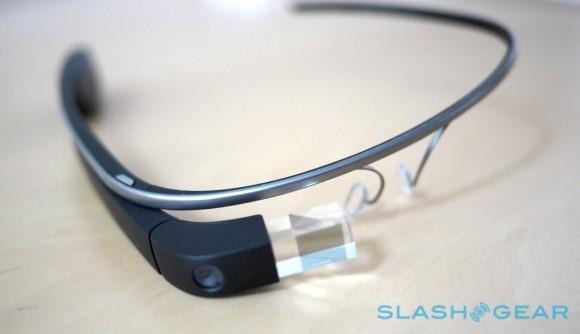 Is that sort of hunt for value eventually leading Narrative toward a full-on wearable like Google's Glass? Källström isn't convinced, though he does believe that Glass and the Narrative Clip share one key factor that might see other wearables struggling.
"The wearable camera is like the screen of Google Glass. If you're going to have a wearable camera, or a screen that projects stuff directly onto the eye, they're about the only two things that cannot disappear into the smartphone" he pointed out. "We realized when we set out to do this that so much stuff, like the fitness trackers, will over time disappear into the smartphone."
It's a topical observation, given Apple's recently-released iPhone 5s and its M7 co-processor with its tracking of movement and direction. "There are so many amazing sensors, like electronic noses that can sniff out what gases are around, they can measure your health and your environmental surroundings, and temperature sensors; so much of that will migrate into your smartphone" Källström predicts. "But your smartphone, you want a screen, a battery, a processor... it won't shrink in size enough that you can wear it in a necklace, because the form-factor of the smartphone, actually, almost the initial form-factor of the iPhone was a bit too small, screens have grown since then."
That leaves a very narrow window of opportunity, the Narrative CEO argues, despite predictions that the wearables market will expand hugely. "I believe that there are very few of the wearable devices that will actually persist over time," he cautions, "because you have such an amazing computing platform with you that you're going to continue carrying all the time."
Källström concedes that it's not so clean-cut as the smartphone being the all-consuming device. "But there are exceptions" he admits, "for example, with a fitness tracker, if you want really reliable data, you want to keep it on you all the time, because you want to put your phone down, or in a bag, or so on. So there are use-cases and situations where wearables can make sense."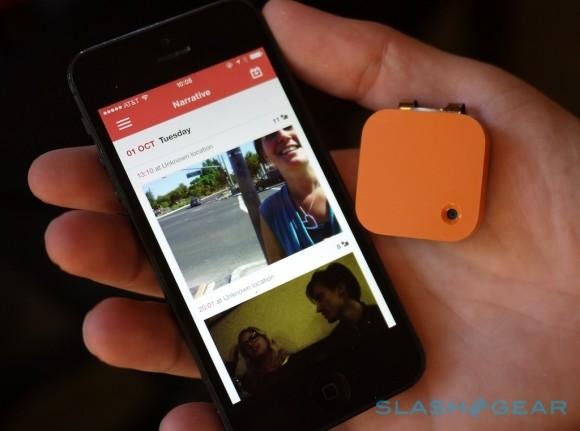 One possibility, though, is of just a few potential types of device beyond a smartphone, with clusters of convergence that are then spread around the body as they strike a balance of form-factor and functionality. "We will explore other form-factors, but how specialized they will be is yet to be seen. We don't know if it's going to be very single purpose like [Narrative Clip]" Martin said. "But if you're going to have a wearable camera then it's a device you're going to have around, so you might as well put other things into it. If you are going to have a wearable screen then you might as well put something else in there too."
"But exactly how that will work out is very hard to say, and we have a couple of different ideas of what we're doing next, but the most important thing to use right now is to get a really great wearable camera and that will probably take a couple of generations more. So we won't be doing a "Narrative Glass" next year, because that wouldn't be the most valuable thing to our users."
The obvious question, then, is what would be considered valuable: what does success look like for Narrative and its first-generation product. "That's a very hard question to answer, because I know I will have to eat it up!" Källström laughed. "So... if there's one user in Minnesota, whose life we have thoroughly changed, that's enough, then we're successful."
"That's completely dodging the question," he conceded, "but it is sort of our attitude. We've done amazingly so far, compared to our expectations. I got an email from a photographer who'd been in a traffic accident, and she was in a wheelchair and couldn't operate her professional equipment. So she was really excited about Narrative Clip because it meant she could express herself with her photos again. And getting that email meant so much more than any sales figures; in reality, that's the way I react to what happens to us."
Perhaps the more interesting metric will be how many people are still using Narrative Clip in a year's time, and still looking through and sharing their moments, rather than how many units are actually sold. Drawers full of unworn fitness tracking wearables are testament to the fact that, just because something gets bought in the first place, that doesn't necessarily make it a success overall.
For Källström, and the Narrative team, the big focus is the next two months: first building up to the first shipments going out, and then dealing with the potential fallout as people get to grips with their Narrative Clip cameras. "We are trying to find ways to encourage people to have patience and be understanding" the CEO told us. "You're so used to beta versions of websites, and so on, but you're not used to hardware being in beta when you get it. I'm really annoyed when things don't work when you get them. So hopefully it will work, and it will be really great to finally see people using this."
"The stuff people contacted us about, about how they will use the camera, has such variety so it will be so cool to see how that played out" he concluded, the clip-on camera at his neck set to become slightly less unique as all-seeing eyes spread in just a few weeks time. "It will be really, really exciting."