Napster mobile streaming hits UK iPhones and Androids [Video]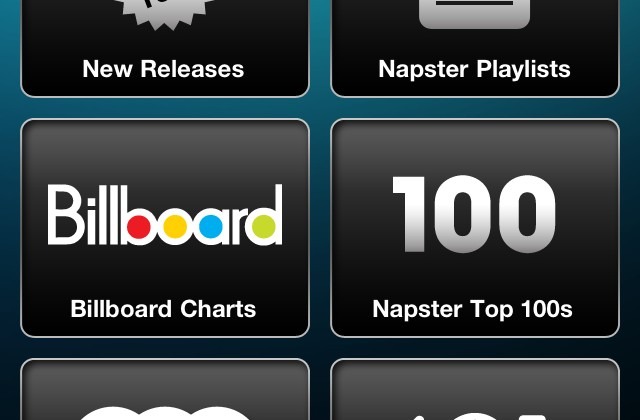 Napster's mobile streaming access has finally crossed the Atlantic and turned up on Android and iOS devices in the UK, promising unlimited on-demand playback of the company's 15m+ catalog for £10 ($16) per month. The new app also offers automatic offline playback of the last 100 tracks played, in addition to saved playlists, albums and artists.
Playlists are automatically synchronized between Napster's desktop and mobile clients, and there's access to the company's recommendations, official music charts, top 100 charts and Automix. Streaming over WiFi or 3G is supported, though it's probably a good idea to have an unlimited data plan if you intend to use the latter.
There's also a £5/month home entertainment streaming-only package, which allows you Napster catalog access on your smart TV, Sonos or other streaming audio system. Both Android and iOS apps are available to download now; more details in the videos below.
Press Release:
Napster extends music streaming service to mobile devices

Instant unlimited access to over 15 million tracks through your mobile

LONDON – 19 May, 2011 Napster, the pioneer of digital music, announced today the launch of its new mobile music streaming service, Napster Unlimited plus Mobile. The new service will give users instant access to the full Napster catalogue of over 15 million tracks through their mobile device.

Available today, the new £10 per month subscription plan provides unlimited access to the Napster service on mobile platforms including iPhone, iPod Touch, iPad and Android devices. The subscription service allows users to combine mobile on demand streaming from Napster's music catalogue, one of the largest collections of music available and the ability to save music to play offline. Members will also have access to all of Napster's great music discovery features, including playlists, radio stations and recommendations from the Napster music team.

Napster Unlimited plus Mobile allows subscribers to widen their access to the music they love with auto synchronisation across multiple platforms and devices. A range of tiered subscription plans are available:

For £10 per month members will receive:

Unlimited mobile streaming over both Wi-Fi and 2.5/3G.

Intuitive and easy to use navigation enabling instant music playback on mobile devices

Mobile access to Napster's rich feature set including new releases, recommendations, official music charts, Napster's top 100 charts, and Automix

Offline mobile access to the last 100 played tracks and saved playlists, albums and artists so music is always available even without a mobile connection

Web-based access from any computer, without having to download any software

Automatic synchronisation of playlists on PC, web, mobile and integrated audio devices, with instant and automatic update of changes

There is also a £5 per month home entertainment streaming-only subscription option, allowing users to gain access to the entire online catalogue via PCs, internet connected TVs and wireless home audio devices.

Thorsten Schliesche, Napster's Vice President Sales and Marketing Europe, comments: "Napster strives to offer music lovers the opportunity to listen to music without barriers and with complete freedom, empowering users to take the music they love and discover on the move and access via multiple platforms. We are also committed to expanding freedom of access to streaming devices around the home and entertainment systems by integrating Napster services with devices such as internet connected TVs and wireless home audio systems.

"Napster Unlimited plus Mobile is the culmination of listening to our members' feedback and providing what they have asked us for. We are proud that Napster's music catalogue of 15 million tracks is one of the largest available and can now truly be accessed anywhere — complete with the tools to make it easy and fun to navigate such a large and diverse catalogue of continually expanding music."

The mobile application is available for download in the Apple App Store and Android Market. For further information please visit the website at http://www.napster.co.uk/

About Napster

Napster (www.napster.co.uk), the pioneer of digital music, offers the ultimate in interactive music experiences, creating better ways to discover, share, acquire and enjoy the universe of music – anytime, anywhere. The Napster service is the easiest way to find, discover and enjoy the universe of music online, on the go and around the home. With unlimited, on-demand access to music from a computer, mobile and home entertainment device, Napster lets you enjoy music your way anytime, anywhere. The service is available at www.napster.co.uk in the UK and is also available in the US, Canada and Germany. A wholly owned subsidiary of Best Buy, Inc. (NYSE: BBY), Napster is headquartered in Los Angeles.