Nanovision MIMO USB LCDs on sale in US, including touchscreen UM740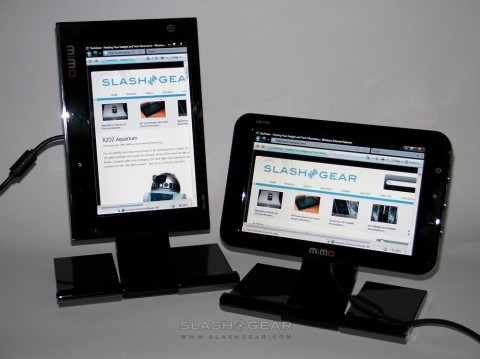 We're big fans of Nanovision's MIMO monitors, the 7-inch USB sub-displays we reviewed back in November; they're useful for everything from chat windows, Photoshop toolbars and media players to video conferencing with the webcam-enabled versions. Now you can find the Nanovision MIMO UM-710, together with its touchscreen sibling the MIMO UM-740, on sale in the US, complete with free shipping.
Both displays have a 7-inch LCD panel running at 800 x 480, with 350 cd/m2 brightness and 400:1 contrast ratio. The UM-710 is the entry level version, being just the USB-bus powered screen, onto which the UM-740 adds touchscreen functionality, a webcam, a microphone and audio pass-through to make hooking up speakers and headphones straightforward for those whose PCs or Macs live under the desk.
Each is compatible with Windows XP, Vista, and Mac OS X – they use the DisplayLink technology, and we had both screens happily running simultaneously from a ULV Sony VAIO TZ notebook, so they're not exactly system-intensive – and make neat secondary-displays for toolbars, IM windows, media players and Twitter clients. The Nanovision MIMO UM-710 and UM-740 are available in the US now from MIMOmonitors.com, priced at $129.99 and $199.99 respectively.
Press Release:
USB-Powered 7-inch MIMO Monitors Now Available in the U.S. With Free Shipping at www.mimomonitors.com

MIMO UM-710 and Touchscreen MIMO UM-740 Displays Act As Great Secondary Mini-Monitors to Preserve Desktop Space for Multi-Taskers in the Office, at Home, or in College

February 4, 2009– New York, NY – MIMO Monitors are now available for U.S. shoppers at www.mimomonitors.com with free shipping. Using a single USB 2.0 connection for both power and connectivity, the 7" monitors provide instant secondary display – ideal for instant messaging and email clients, frequented applications, spreadsheets and documents, streaming media, videoconferencing, or various design tools such as Photoshop. Slick looking and ultra-portable, MIMO Monitors weigh just 1.3 lbs. while featuring a beautiful 800x480 resolution. Supporting Windows XP and Vista as well as Mac OS X, both the MIMO UM-710 and MIMO UM-740 monitor models are available with free shipping throughout the U.S. at www.mimomonitors.com.

The MIMO UM-710 boasts a pivoting monitor for either landscape or portrait views, and features 350 cd/m2 brightness with a contrast ratio of 400:1. Priced at $129.99, the MIMO UM-710 is a smart, efficient way for users that run a number of applications simultaneously to declutter and maximize desktop space. The MIMO UM-710 utilizes just one USB 2.0 connection for both power and connectivity.

The MIMO UM-740 includes all of the MIMO UM-710 characteristics plus a range of additional features, most notably touchscreen functionality. Additionally, the MIMO UM-740 features webcam capabilities, a microphone and audio in/out pass through. The MIMO UM-740 also includes a second USB 2.0 connection for systems that do not meet power requirements. Priced at $199.99, the MIMO UM-740 is a vital solution for multitasking computer-using professionals.

Both the MIMO UM-710 and MIMO UM-740 are now available in the U.S. at www.mimomonitors.com, which offers free shipping for both devices to any destination in the U.S.