MySpace for Windows Mobile set for Summer release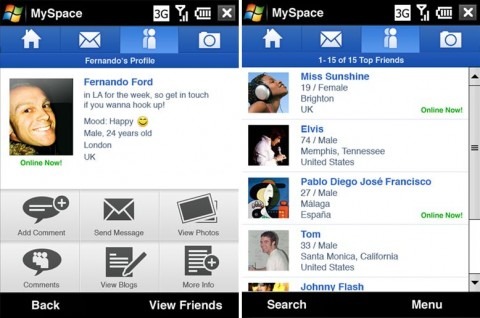 MySpace and Microsoft have announced that they will collaborate to produce a MySpace for Windows Mobile application, based on Silverlight.  Set to launch this summer, the app will not only offer access to MySpace's main social features, but apparently integrate some of that functionality into the smartphone OS.
That means access to profiles, messaging and photos, together with blogs and comments.  Users will be able to browse their friends-list, see online statuses and upload photos directly from their smartphone.  Developers will also be able to develop Silverlight-based apps using the MySpace Open Platform.
MySpace for Windows Mobile will be available on Windows Mobile 6.1 handsets over the summer, before making an appearance in the Windows Marketplace for Mobile in the fall of 2009.  LG have announced that they will be pre-installing the app on their Windows Mobile handsets. 
Press Release:
MYSPACE ANNOUNCES SUPPORT FOR MICROSOFT PLATFORMS

LG to Preload the MySpace Mobile App on the Next-Generation of Windows Phones

World's Premier Social Portal Works With Microsoft to Launch Open Source Kit for Silverlight Developers

LOS ANGELES—March 30, 2009—MySpace, the world's premier social portal, today announced support for Microsoft Windows Mobile and Microsoft Silverlight. The new MySpace mobile application, available this summer, will run on Windows phones and utilize Silverlight, Microsoft Corp's free browser plug-in that powers rich Internet application (RIA) experiences, into the MySpace Open Platform.

"We are pleased to bring MySpace users the benefits and flexibility of Microsoft's platforms," said Aber Whitcomb, chief technology officer of MySpace. "Our relationship enables app developers to use Silverlight to create engaging MySpace apps and allows Windows Mobile users to have a more personal MySpace experience on their phone."

Today's news is in conjunction with the CTIA Wireless 2009 in Las Vegas from April 1-3 and the Web 2.0 Expo in San Francisco March 31—April 3. MySpace and Microsoft will present a session at the Web 2.0 Expo on Silverlight on the MySpace Open Platform. The 50 minute session will take place on Thursday, April 2nd at 1:30pm PT and will focus on how developers can build Silverlight applications on MySpace using the jointly released Open Source kit for Silverlight.

Windows phones + MySpace

The companies are in close collaboration to offer a MySpace for Windows Mobile application which will be available for download later this summer. The application is fully optimized with a user-friendly interface and will deliver rich content and data to MySpace users on the go. It integrates MySpace's main social features and functionality with the Windows operating system to provide access to the community in a way that's familiar to the Windows Mobile user.

"Talking to family, sending pictures and connecting with long-lost friends is important to our customers, and we are giving them the option to do that on the go by teaming up with MySpace," said Stephanie Ferguson, general manager Business Experiences Team, in the Mobile Communications Business at Microsoft Corp. "MySpace is a pioneer in the social networking space, and the MySpace application will be a tremendous asset to the collection of applications you can access on your Windows phone."

The MySpace application will be available on Windows Mobile 6.1 phones later this summer and then in the fall of 2009 through the Windows Marketplace for Mobile, directly through phones, and the Web. LG will preload the MySpace application on their Windows phones, making it even easier than ever for users to gain real-time access to their global MySpace network. The new Windows phones are expected to be available in the second half of 2009.

Through this relationship, MySpace is further committed to mobile as a central element of the MySpace global business strategy. Today's news also further solidifies MySpace's leadership role in the market establishing a unique position for the company in providing applications for all major smart phone device platforms including iPhone, Android, Blackberry, Sidekick, Palm, Nokia, and now Windows Mobile. MySpace has more than 20 million worldwide mobile users.

Silverlight + MySpace

The introduction of Silverlight into the MySpace Open Platform empowers MySpace developers with more freedom and flexibility to design OpenSocial applications using the tools and technology they want. Silverlight and the MySpace Open Platform will enable developers to rapidly create and deliver sophisticated MySpace applications with a custom look and feel through the flexible skinning of controls and data.

Microsoft and MySpace have released an Open Source kit that makes it easy to develop OpenSocial applications using Silverlight that run on the MySpace Open Platform. To learn about this kit and how designers and developers can use it to create interactive, engaging apps on MySpace, please visit http://www.myspace.com/silverlightonmyspace, and read the blog post about MySpace's support of Silverlight at developer.myspace.com.

"Microsoft is pleased to work with MySpace to enable developers to create compelling and custom OpenSocial applications using Silverlight," said Brian Goldfarb, director of the developer platform group at Microsoft. "By utilizing the Open Source kit released by Microsoft and MySpace, developers can now harness the power of the rich media features in Silverlight to take the user experience to a new level for the MySpace community."