MyMultitouch 84-Inch 4K Touch-Display Hands-On: Angry Birds Goes Massive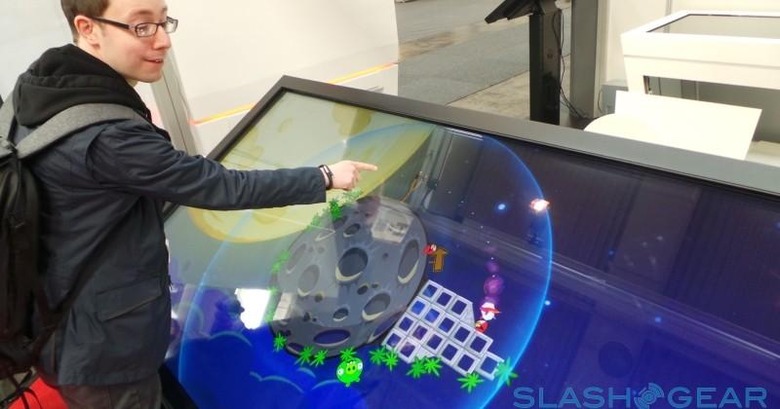 Angry Birds on an 84-inch 4K tablet? Not quite, but if your iPad or Nexus 10 simply isn't big enough or high-res enough, MyMultitouch has an 84-inch beast to offer instead. The Germany company is showing off its biggest multitouch table/display to-date at CeBIT, a vast 3.840 x 2,160 Ultra HD screen called the Alvaro GIANT capable of running Windows, Android or most anything else, and we couldn't resist getting our fingers all over it.
This isn't the first huge multitouch screen we've seen – 3M had an 84-incher at CES, for instance – but it's one of the first with a price tag attached. MyMultitouch tells us the display will retail for around €33,000, making this a $43k plaything.
If you simply have to have a vast screen that's finger-friendly, though, the Alvaro GIANT certainly delivers. We first navigated through Windows 8, tapping, swiping and pinching through the usual Metro-style interface as we would on a far smaller tablet; since the display can run off of any HDMI input (as well as DVI, RGB, AV, and DisplayPort; MyMultitouch also offers an optional integrated PC for standalone use) you could hook up basically any Windows 8 PC to it and suddenly have a vast worksurface to operate from.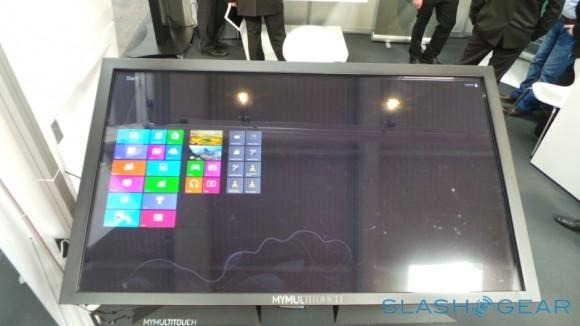 That showed its merit when we flipped over to Android, running off a simple "thumbdrive" sized stick computer. The 4K resolution was downscaled to suit Android's display limitations, but Angry Birds and the regular Android UI looked great spread across 84-inches.
It probably comes as little surprise, but home users wanting more room to throw birds at pigs isn't MyMultitouch's target audience. Instead, the Alvaro GIANT is positioned as a tool for retail, display, and industrial implementation: the top glass layer is toughened, and the system recognizes up to 32-points of contact simultaneously. It's also capable of differentiating between different hand positions, such as whether a fist is in contact or a hand with spread fingers. It'll track users even if they're wearing gloves, too.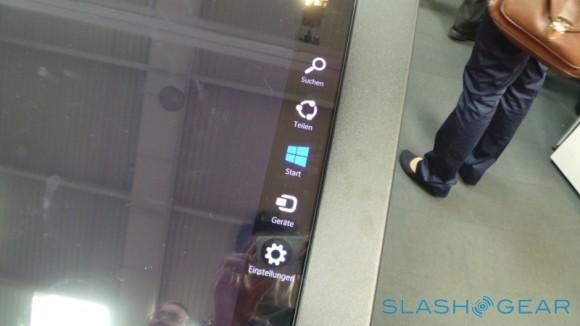 $43k might be a whole lot of money on the face of it, but the Alvaro GIANT finds itself in good Ultra HD company. Samsung's 85-inch Ultra HD TV announced at CES back in January is a cool $38,000 after all, and if you try touching that all you'll get are greasy finger-smudges.