My Little Pony Soldering Iron Brilliance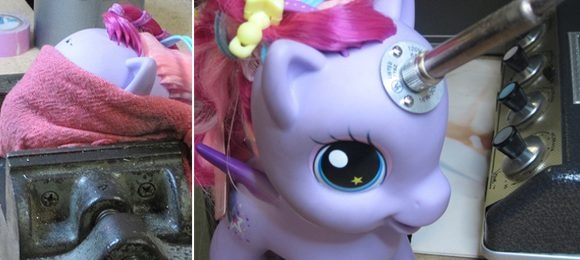 One of the dreamers behind this Magical Soldering Unicorn, mister Sean Bonner, said in april of this year that "The value of something like this is pretty obvious." I think he's completely right, and not just in a "OMG THAT IS JUST SUPER" sort of way. Think of all the traffic the site he's working with is getting now, all because of this relatively simple DIY hack on a piece of plastic and metal – together, these bits form an alliance that is truly synergistic.
Created through the combined efforts of the talented mister Sean Bonner and his pal in DIY electronics and whatnot, the also very talented mister Matt Pinner, this My Little Pony doll actually solders. It was created at Los Angeles hackerspace Crash Space's weekly meeting, and they now say it is their mascot. Well played.
[Via DVice]