MY iPhone giveaway - win an iPhone plus accessories!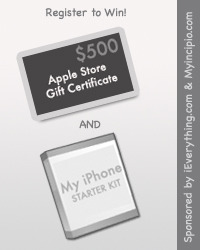 To celebrate today's WWDC and our Live Webcast in association with iEverything, we're running a giveaway over at our sister site MYiTablet. iEverything have been generous enough to provide a $500 Apple Store Gift Certificate for you to buy your own iPhone, as well as a My iPhone Starter Kit (containing an iPhone case, headset, charger, sync cable / car charger and screen protector) worth $300. There'll also be multiple accessory prizes from myIncipio.com
To be in with a chance of winning all you have to do is register at MYiTablet (or SlashGear) and leave a comment in this forum thread telling us what exactly you like or dislike about the iPhone. Winners will be announced in one week, so make sure you get your entry in soon!
More details over at MYiTablet...