MWC 2012 Google Pod Video Tour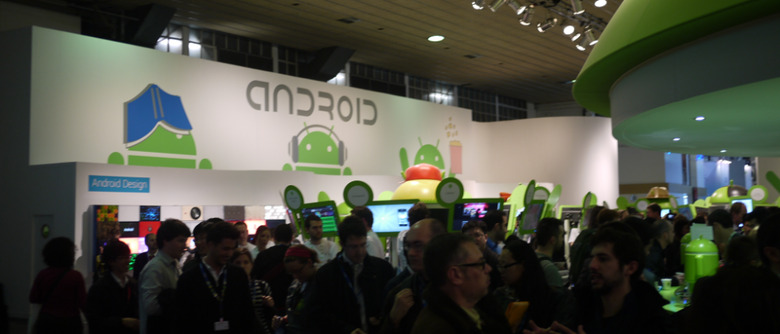 Taking our expectations from last year and once again knocking them out of the park with a gigantic Android-controlled cannon, Google has presented another "Google Pod" worthy of remembrance this year at Mobile World Congress 2012. They had everything from developers of games to free Android-version-flavored smoothies and back to the cult-classic Android pins promotion. There was even a robot making gemmed-up Galaxy Nexus battery covers for the most hardcore of shiny Android accessory lovers! Have a walk down Google way in our video tour for MWC 2012!
This tour will start at the front desk where you'd be lucky to find an Android pin without being extra excellent at timing and charm. Next there's the gigantic television screen playing loops of the Galaxy Nexus floating through space, this above a cove of sorts designed by Mr Brainwash brand graffiti, this area promoting Google Music almost exclusively. Also in this room was one of two Android claw machines which anyone could win a plush Android or Android plastic toy from – these plastic toys, by the way, were part of the series just released in recent weeks by Andrew Bell and crew over at Dead Zebra, much like last year when they pre-released Series 2 via Google at MWC again.
*UPDATE: actually the graffiti in the Google Music area was done by "Graffiti4hire ltd", a UK-based graffiti painting crew commissioned by Google to do this job specifically – check out more images of the work here in their Facebook album: [Pre-Show].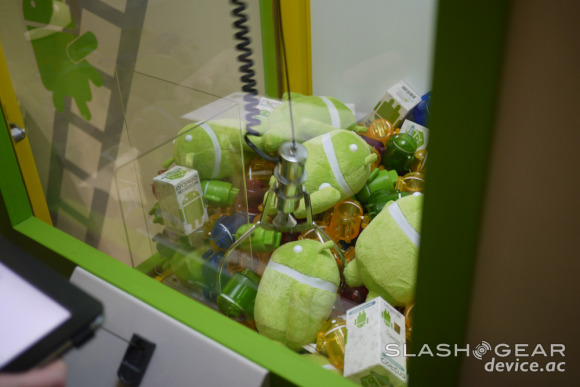 Next on the tour is the all-powerful Android device conveyer belt. If you've heard of an Android device and it isn't here, there's almost certainly something wrong with it. What Google's done here is to show the utter power of expansion that the Android operating system has, with everything from the oldest to the newest devices up for peeking at. Then there's a giant Android slide above the belt for those that love to look fabulously goofy as Google takes a photo of them and prints it up for you to take home.
[vms 4d1f1c19969c88780314]
The main bulk of this whole showing is made up of giant Android statues which hold several Android developers each. There's developers of games, Google developers making official Google-released apps, and manufacturers along the back as well. Along the opposite wall of the belt there's an "Android Design" wall which shows off the many strange ways you can use Android to control objects that normally aren't associated with the mobile world, like light switches and non-mobile touchscreens with icons galore floating about.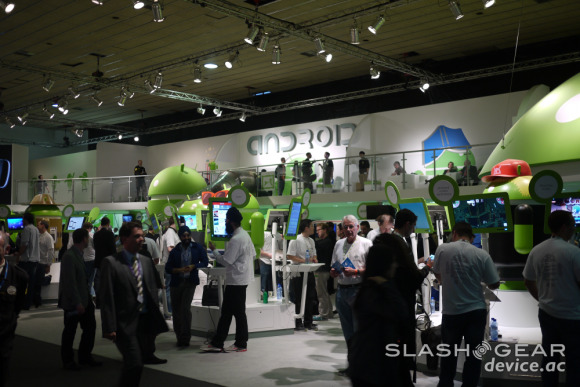 Also along those lines there's an Android tablet-controlled robot in the center of the room picking up Galaxy Nexus battery covers and placing them down to be bejeweled according to a series of Android-related designs that the user can choose from. These design were made by – you guessed it – Android Bell, and because so many people wanted to get their hands on one of these magical items, Google had to implement a giveaway system where people who tried the robot out were put into a hat and chosen at random to win one of their creations.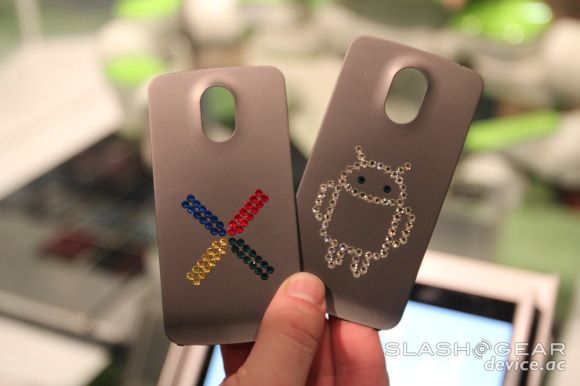 Then the biggest Android head is once again, just like 2011, home to a series of Google employees serving up Android-flavored smoothies. Everything from Gingerbread to FroYo and back to Donut. The Ice Cream Sandwich bit was then saved for actual Android-shaped Ice Cream Sandwiches which were also given away to lucky Android lovers. Great fun for all!
For an awesome full-on comparison to last year's Google Pod, simply head back to the Android Community 2011 tour of the Google Pod narrated by yours truly, or simply check the tour out here, also in video form:
[vms 43755a79ee5f6a73050a]