MTV Under The Thumb Social TV hands-on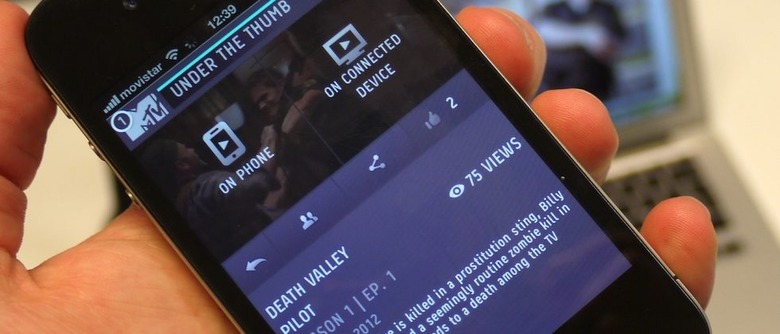 Streaming TV is about to get noisy, with the launch of MTV's new "Under The Thumb" app promising social entertainment targeted at the perpetually-connected, co-viewing regardless of distance, and super-streamlined multi display interactivity. Hitting iPhone and Android today, the app offers access to an on-demand catalog of MTV shows like Jersey Shore, 16 & Pregnant and Death Valley, which can be viewed on your smartphone – complete with instant messaging between viewers – and the ability to restream it direct to your internet-connected TV or computer, turning your phone into a remote control. Check out our hands-on first impressions after the cut.
The app itself is free, and will be offered with a limited selection of free content as part of the basic "Tiny Thumb" package; there's also celebrity news and other MTV highlights. €2.99 ($4) per month (or €29.99/$40 for the year) gets you the "Super Thumb" package, with more shows and full season access.  Finally, those with MTV Mobile handset contracts – available through carrier deals in certain countries – are automatically made "Ultra Thumb" subscribers, and get free access to all the shows along with premier access to select new series a week before they air on TV.
We caught up with Michel Dupont, SVP of Viacom International Media Networks, along with Jason Warnes from digital agency partner AKQA who was responsible for building the app and cloud services to find out more. The particular elements that both are most proud of are the co-viewing and the easy connected device playback, where viewers can invite their friends – connected via Facebook – to watch an on-demand show with them at a certain time, both shows automatically synchronized to play simultaneously. Watch in landscape orientation for full-screen playback, or flip to portrait to see both the show and the IM window underneath.
As for playback on connected devices, although we've had DLNA and other potential solutions to placeshifting content before, the MTV system is undoubtedly the easiest we've tried to-date. Users simply log into a certain MTV webpage and then hit the "View On Connected Device" button, turning their phone into a remote. You can still access instant messaging for chat.
MTV Under The Thumb hands-on:
[vms 4d3e5785d5e7c5356e9f]
Currently, the browser-based app relies on Flash, though AKQA tells us it's working on an HTML5 version that will play nicely with the iPad browser. There are some early glitches – viewers should be able to catch back up with co-viewed shows if they drop out of the Under The Thumb app, say to reply to an email, but that proved tricky in our demo with the service.
In the pipeline is more content and greater leverage of the co-viewing technology. One possibility is celebrity co-viewing, with one of the stars of MTV's reality shows joining viewers for a huge communal streaming session complete with chat.
At the moment, Under The Thumb is only available in certain markets - Germany, Holland, Belgium and Switzerland – with others in the pipeline for later in the week. US launch plans are a possibility, as are versions from other Viacom divisions beyond MTV, though Dupont tells us the company has no plans to license the tech out.