MSN portal takes giant Windows 8 touchscreen cue

If you're a Windows user who makes MSN their homepage on the regular, you'll be glad to hear that they'll be getting a giant re-design optimized for the touchscreen environment this Autumn. This change comes at the same time as Windows 8 is released, with a jump-off date of October 26th in the mix. This update brings Windows 8 and Windows RT users using Internet Explorer 10 the chance to keep their touchscreen-usefulness at its hight.
This new interface for the MSN-laden web is being shown off this week at New York's Advertising Week. This new version of MSN online will be shown right alongside a collection of advertisements for Windows 8 and Windows RT that are touch-centric in nature as well. This release will not be viewable to the general public until the 26th of October when Windows 8/RT goes on sale to the general public.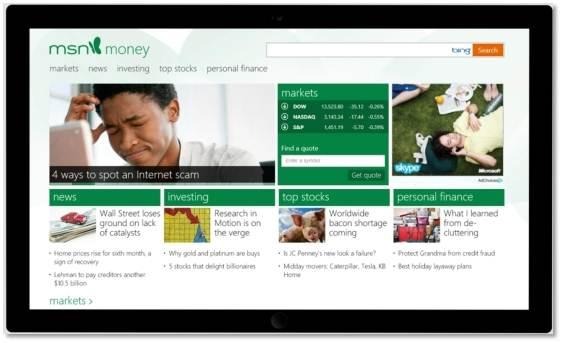 MSN update on a mocked-up tablet device.
This update will have what was up until recently called a "Metro" look and feel with buttons large enough for the finger to tap in any situation. This update will only be shown to Windows 8 and Windows RT users working with Internet Explorer 10 specifically at the start, but it may be expanded to other systems in the future. Advertisements for Windows 8/RT with touch-centric goals will be released throughout the week.
This new portal will have MSN News from AP and Reuters news sources alongside Microsoft's own staff of in-house writers. The updated MSN homepage will have Sports, Entertainment, and Money subsidies as well – as the current homepage does already. This new portal is going to be used – in one way or another – as an interface for the new Windows 8 and Windows Phone 8 apps that will be released in 2013 – more than likely. There's a Windows 8 Bing News app in the Windows Store right this minute, and it's currently unclear if one will replace the other.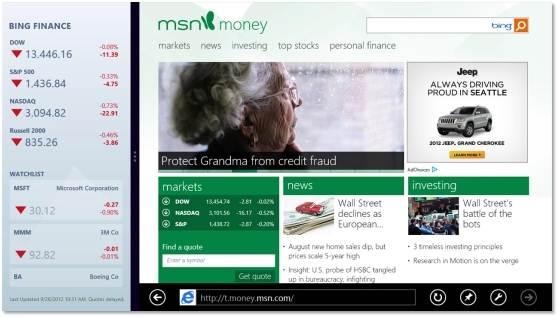 [via Microsoft]