MSI X600 Goes On Sale Today at Amazon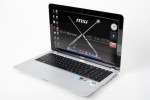 The MSI X-Slim X600 hasn't been a stranger to these parts and neither has the X610, and if you thought those screenshots, reviews, and unboxing videos were just enough to pull you over to the realm of purchasing, then by all means, go right ahead. The MSI has officially gone up for purchase on the mega-online retailer Amazon, with current shipping only to the United States.
So far, what Amazon has on slate was expected: 15.6-inch screen, and it's all silver. It's running a 1.4GHz processor; 4GB DDR2 RAM; 320GB SATA Hard Drive; Windows Vista Home Premium; a 6-cell battery; and the screen is a WXGA 16:9, LCD, 1366x768 resolution; and ATI HD 4330 graphics card. You get all of that encased in about 4 pounds, so while it may not necessarily weigh down your laptop bag, we wouldn't recommend throwing it at anybody.
All in all, it's all about what you want. We've laid out a pretty hefty assortment of images, specifications, and even reviews of the model available, so we're pretty sure you will be able to make a sound decision regarding a purchase or not. Of course, the $799.99 price tag might also weight into that decision as well.