MSI X-Slim X400 14-inch ultraportable launched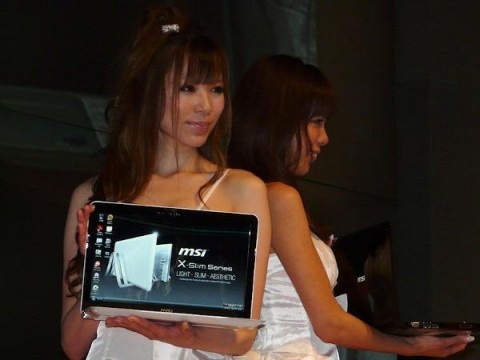 From one MSI ultraportable to another, and the company surprised with the announcement of a hitherto-unseen X-Slim notebooks at an Asia-Pacific launch recently.  The MSI X-Slim X400 is a 14-inch variant of the X-Slim range, with the same slender chassis as the X340 and X600 but a screen size in-between those models.
What's unclear as yet is the processor and other specifications of the X-Slim X400.  It's likely to follow the X-Slim trend, and use one of Intel's CULV processors – the same 1.4Ghz Core 2 Solo as the X340 seems most probable – paired with 2GB of RAM and a roughly 320GB hard-drive. 
You could argue that there's no real need for a 14-inch version of the range, what with the 13.4-inch being only slightly smaller, and the 16-inch slightly larger.  Still, MSI obviously believe there's a demand for all these incremental models; perhaps ASUS' ever-spiraling Eee PC range has led the way.
[Thanks Paul!]