MSI Windbox: VESA-Mounted Fanless Nettop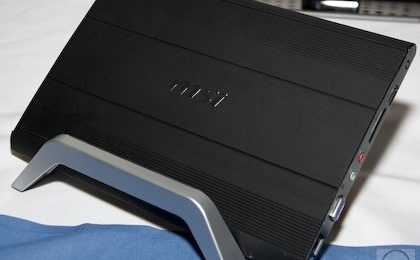 MSI have announced their rival to the ASUS Eee Box, the predictably named MSI Windbox.  A 300 x 240 x 65mm slab, the fanless Windbox contains a 1.6GHz N270 Intel Atom processor, 1GB or 2GB of RAM, either 160GB or 250GB hard-drive, WiFi b/g and gigabit ethernet.  While MSI demonstrated it with a desk-stand, it's actually intended to be fixed to the VESA mount on the back of a flat-panel monitor.
Other specs include a multiformat memory card reader, three USB 2.0 ports, audio in/out (supporting 7.1 surround sound) and VGA output.  OS is Windows XP Home, and the whole thing weighs just 500g.  Specifications are little different from the Eee Box, and neither have an integrated optical drive.
MSI expect the Windbox to be available in the first quarter of 2009.  Price is expected to be around €200 ($258), though unconfirmed by MSI themselves.  Personally, I'd say they've missed a trick by not including an HDMI output and positioning the Windbox as a compact, silent Media Center Extender.