MSI WindBOX barebones announced: VESA-mount nettop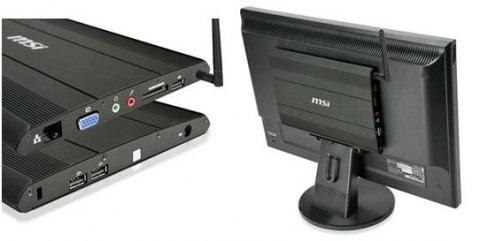 MSI have officially announced their WindBOX barebones nettop, set to hit the market this quarter.  The slim, fanless box – which can be mounted to an LCD monitor's VESA bracket – is based on Intel's 1.6GHz Atom N270 processor, paired with 1GB of RAM, and is supplied as a barebones unit without storage.  There's a SATA-II connector and room for a 2.5-inch hard-drive; alternatively, MSI suggest you could boot the WindBOX from a memory card and use it as a thin-client.
Ports include three USB 2.0, a 3-in-1 memory card reader, VGA output, ethernet and audio in/out.  There's also an optional external antenna for the WiFi b/g, and MSI guarantee the WindBOX for five years.
We'd still like to see MSI slap the Atom 330 dual-core nettop chip in the same chassis, add a DVI or HDMI port, and turn the WindBOX into a super-skinny media player/extender.  However if you're looking for a discrete, silent PC – or an embedded one – then the WindBOX might be worth a look.  No word on price, but earlier predictions suggested around €200 ($259), though that was for a unit including a hard-drive.