MSI Wind U135 only $310, powered by Pine Trail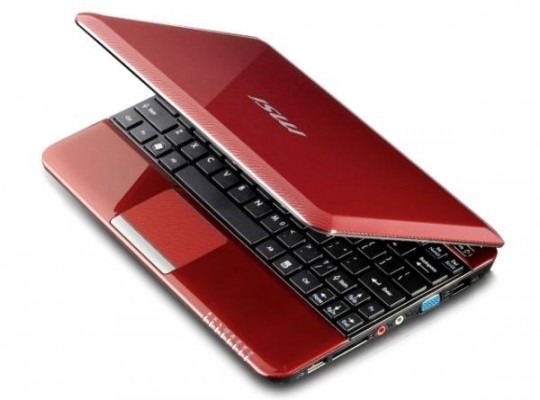 Acer has a new rival in the highly-affordable netbook market in the form of the $309.99 MSI Wind U135 netbook, powered by Intel's Pine Trail platform.  Seen originally in December,  this little thing speeds up the netbook race for cheap and fast by another welcomed step.
The Wind U135 Netbook comes in flavors of charcoal, silver, ruby, or sapphire, with a film-printed shiny coating and a new raised chiclet keyboard (we love that term).  A larger-sized touchpad is also included, with 160GB or 250GB hard drive, and 1GB of RAM.  Windows 7 Starter on a 10-inch screen (1024x600 resolution) is driven by a 1.6GHz Intel Atom N450, and mixed in are three USB ports and a 1.3 MP webcam.  For those who're looking to pick one up, purchase is available starting today at retailers and online.
MSI US Announces Availability of Wind U135 Special Edition Netbook Commemorating the Millions of Wind Units Sold Worldwide

Posted on: 26 January 2010

The U135 is the first Wind model to feature Intel's Pine Trail Platform

CITY OF INDUSTRY, CA – January 26, 2010 – MSI Computer, a leading manufacturer of computer hardware products and solutions, is proud to announce the availability of the MSI Wind U135 netbook. These special edition netbooks commemorate the millions of Wind models sold globally and are the first to feature the powerful, yet efficient Intel Pine Trail Platform with the Atom™ N450 processor . Available in Silver, Charcoal, Ruby and Sapphire, the newest addition to the Wind family also features a 160GB or 250 GB hard drive, 1 GB of DDR2 memory and Windows 7 Starter and start at $309.99.

The U135's new CPU and single chipset architecture combine to consume just 7 watts, increasing battery life by 15% and overall performance by as much as 10%. Consumers can choose between a 3-cell or 6-cell battery, with the later delivering a battery life of up to 7.5 hours.

The U135's battery life also benefits from MSI's exclusive MSI ECO Engine Technology and an efficient LED display. The ECO Engine technology allows users to choose from 5 power modes–Gaming, Movie, Presentation, Document and Turbo Battery–to customize the power supply based on usage requirements.

The U135 also features several design upgrades including a new raised chiclet keyboard and a color film printed case. The elevated keys are 20% larger, firm to the touch and improve typing accuracy and user comfort. The U135's stylish color film printed case prevents smudging, giving the netbook a glossy finish. MSI also packed a 1.3M webcam, D-Sub port, 3 USB 2.0 ports and 4×1 card reader into the portable lightweight U135.

The new Wind U135 is available now at retailers such as Fry's Electronics and Comp USA, and online at Amazon and Newegg for $309.99 – $329.99. MSI offers a 1-year limited warranty with the U135 and extended customer services hours at 1-888-447-6564.

For images or additional information please contact MSI Notebook media representative Mark Olson at 305-576-1171 x17 or markolson@maxborgesagency.com