MSI Wind Top AE2220 all-in-one packs 1080p and multitouch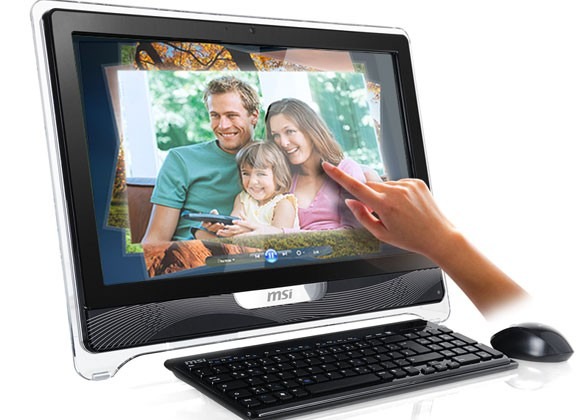 MSI have pushed out another all-in-one in its Wind Top line, and this one offers both Full HD 1080p support and a touchscreen.  The MSI Wind Top AE2220 has a 21.5-inch 16:9 display running at 1,920 x 1,080, multitouch support, a choice of Intel's 2.2GHz Core 2 Duo T6600 or 2.1GHz Pentium dual-core T4300 processors, and NVIDIA Ion graphics.
There's also 4GB of memory and a 500GB hard-drive, while a combo Blu-ray player and DVD burner lurks around the side.  Ports include six USB 2.0, eSATA, ethernet, audio in/out, S/PDIF and a multiformat card reader; there are also HDMI and VGA inputs, for using the panel as an external display with a console or other source.  Wireless is WiFi b/g/n though no Bluetooth, and MSI will happily sell you a TV tuner too; an IR MCE remote comes in the box.
Windows 7 Home Premium supplies the touchscreen cleverness, and you can also VESA mount the AE2220 on the wall making it particularly suitable for bedrooms or kitchens.  Now that Flash Player 10.1 supports GPU accelerated decoding, the Ion chipset should be ideal for full-screen YouTube HD playback, too.  The MSI Wind Top AE2220 is on sale today, priced at $749.99.
Press Release:
MSI US Launches High-Performance Wind Top 21.5-inch Multi-Touch Screen All-in-One Desktop PC

MSI Wind Top AE2220 Features an HD LCD, Windows® 7, NVIDIA ION, and Combines Intuitive Multi-Touch Screen Control to Deliver Theater-Quality Multimedia Experience for the Entire Family

MSI, a leading manufacturer of computer components and systems, today announced the U.S. availability of the Wind Top AE2220 all-in-one desktop PC. As MSI's new flagship all-in-one computing system, the AE2220 extends the award-winning Wind Top line with new levels of performance, usability, energy-efficiency, and functionality in an affordable, stylish and eco-friendly design for today's PC-centric families.

Featuring a 21.5-inch screen with 16:9 widescreen display, full HD (1080p) resolution and high-fidelity 5.1-channel SRS Premium Sound, the Wind Top AE2220 is designed to provide home users with theater-like multimedia entertainment. Powered by NVIDIA ION graphics and the latest Intel® Core 2 Duo/Pentium Dual Core processors, it can effortlessly run HD movies, resource-hungry applications and sophisticated 3D games. The AE2220 also includes VGA and HDMI input ports, enabling the device to serve as the primary home computer, television or a widescreen display device for game consoles and other video-capable devices in the home.

The Wind Top AE2220 all-in-one PC is available in a variety of configurations, and is priced starting at $749.99.

"The MSI Wind Top is an awesome all-purpose family PC. Share photos, edit videos, play games, watch HD video – our ION graphics processor means you can have it all," said Drew Henry, general manager for ION and GeForce products at NVIDIA.

The AE2220 incorporates MSI's exclusive graphic interface, enabling users to take advantage of "One Touch" convenience to browse the Web, instant message, use VOIP software, play music, and much more. With native support for multi-touch capabilities in the new Windows® 7 operating system, the Wind Top AE2220 dramatically improves the multi-touch experience by making it more intuitive, precise and easy to use for simple tasks, such as enlarging photographs and writing text in different languages, as well as for more complex applications, including professional photography editing.

"The Wind Top AE2220 all-in-one PC provides the perfect combination of processing power, easy to use multi-touch technology, and stunning graphics and HD video in a sleek, modern design that is sure to appeal to today's tech-savvy families," said Andy Tung, vice president of sales for MSI Computer. "Even better, the price of MSI's Wind Top won't break the bank, making it a great addition for any home this holiday season."

Like other Wind Top products, the AE2220 is designed to meet all computing performance needs while reducing energy consumption. The AE2220 meets the latest efficiency requirements of ENERGY STAR Version 5.0 Specification for Computers, and can reduce electricity costs by approximately 35 percent compared to conventional PCs.

Special Wind Top Promotion at WIRED Holiday Store 2009 in NYC

MSI Computer will be showcasing the new MSI AE2220 all-in-one PC at WIRED magazine's fifth-annual holiday retail store in New York City from Nov. 21 to Dec. 27. Those who visit MSI's display at the store will receive a $50 gift card that may be used for the purchase of a new Wind Top all-in-one PC. For the WIRED Holiday Store location, directions and hours of operation please visit: http://www.wired.com/promo/wiredstore/aboutus.html.

Wind Top AE2220 Specifications

Operating System — Genuine Windows® 7 Home Premium

CPU — Intel Core 2 Duo T6600 (2.2GHz) / Pentium dual-core T4300 (2.1GHz)

Chipset — NVIDIA® ION™ Graphics Processors

LCD Panel — 21.5" (54.61cm ) 16:9, 1920 x 1080, Full-HD Multi-Touch Screen

Graphics — NVIDIA GeForce 9300 Integrated Graphics with 256MB VRAM

Memory — 4GB DDR2 800MHz

Wireless LAN — 802.11 b/g/n WiFi

Hard Disk Drive — 500GB SATA2

Optical Drive — Blu-Ray/Double-layer DVD Super Multi

Speakers — Two 5W 5.1-channel surround speakers with SRS Premium Sound

Video Input — 1.3-megapixel webcam and microphone

I/O Ports — VGA in, USB (x6), eSATA, RJ45, mic, headphone, HDMI in, SPDIF

Card Reader — Built-in 6-in-1

Expansion Slots — Two Mini-PCIE

IR Receiver — Yes, with MCE remote control

Wall Mount — Supports standard VESA Wall Mount

Keyboard/Mouse — Wireless

Adapter — 200W

Optional — TV tuner