MSI Wind Top AE2010: 20-inch HD playback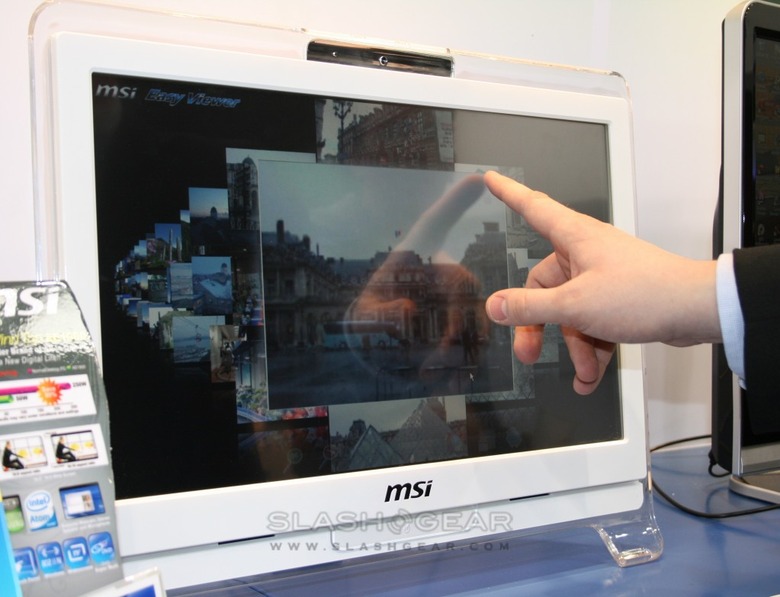 MSI brought along their 20-inch Wind Top AE2010 all-in-one PC to CeBIT 2009, and while it might look like an inflated ASUS Eee Top there's a whole lot more to it.  Fronted by a 1600 x 900 touchscreen, the MSI Wind Top AE2010 has a built-in UVD (Universal Video Decoder) for high-definition playback.
That opens up the possibility of watching HD content on the AE2010's widescreen 16:9 aspect display.  Behind the scenes there's an AMD single-core processor paired with the silicon company's 780G chipset. 
Other specs include an integrated webcam and stereo speakers, multifunction card reader, optical drive and a choice of wireless peripherals.  No word from MSI right now about release dates or pricing.
Press Release:
MSI Shows Off Touch Control Tech with Wind Top at CeBIT

Announces Launch of the "Wind Top" and "Wind Box" Series

To welcome the CeBIT computer fair in Germany, MSI is now rolling out new high-performance multimedia entertainment products targeted at the All-in-one market! In the lead, the Wind Top AE2010 with a 20" display in the E (Entertainment) sub-series that will be making its first appearance at CeBIT. It will be accompanied by the new touch screen models in the form of the Wind Top AE2200 and Wind Top AE1900!

A housewife is in the kitchen preparing to cook the "New Year Feast". She opens the extra-large family-sized refrigerator and feels a little overwhelmed by all the ingredients. While she wondered where to start, inspiration strikes and she quickly fires up the nearby All-in-one computer to look for New Year's dinner menus on the Internet. Soon, she not only has a collection of great recipes but also how-to videos. It didn't take long then for her to create a feast for the whole family. The above is not a vision of a distant future. It's the scenario zone from the MSI display at CeBIT. Simply use the touch controls on the All-in-one computer and have all kinds of recipes and multimedia cooking guides at your fingertips.

Lifestyles have become increasingly high-tech and home lives more style conscious as well. To meet the needs of today's families, MSI worked to develop new All-in-one computers that will now be shown together for the first time at CeBIT. To bring this futuristic high-tech lifestyle to life, MSI designed the scenario zone as a contemporary kitchen. It is fitted with the new Wind Top AE2200 and Wind Top AE1900 touch control computers to show how high technology can create a more stylish life.

As for Small Form-Factor (SFF) products, MSI has added an even more compact Wind Box DC100 model to its Wind Box range. At CeBIT, MSI also announced that its All-in-one computer product range will now be officially known as the "Wind Top" series while the SFF range is now named the "Wind Box" series.

Wind Top AE2010 – The First New 20" All-in-one Model

The first 20" All-in-one computer from MSI will be making its first official experience at CeBIT in Germany. The new 20" model joins the existing 19" and 22" models in the Wind Top series, and not only offers the new option of a 16:9 aspect ratio 20" computer display but also upgraded the multimedia performance.

The E (Entertainment) series in the Wind Top range is designed to provide high-quality visual and audio effects for the discerning user. The new Wind Top AE2010 now offers even more advanced graphics. Apart from the 1600x900 high resolution display, it also comes with built-in UVD (Universal Video Decoder) to support High Definition video decoding and greatly reduce the process workload.

The Wind Top AE2010 also offers more complete multimedia functionality compared to its predecessors by using an AMD single-core CPU with the AMD 780G chipset. The outstanding performance and reasonable pricing makes the Wind Top AE2010 the most cost-effective option for an HD machine!