MSI Wind Top AE1900 hits US for $529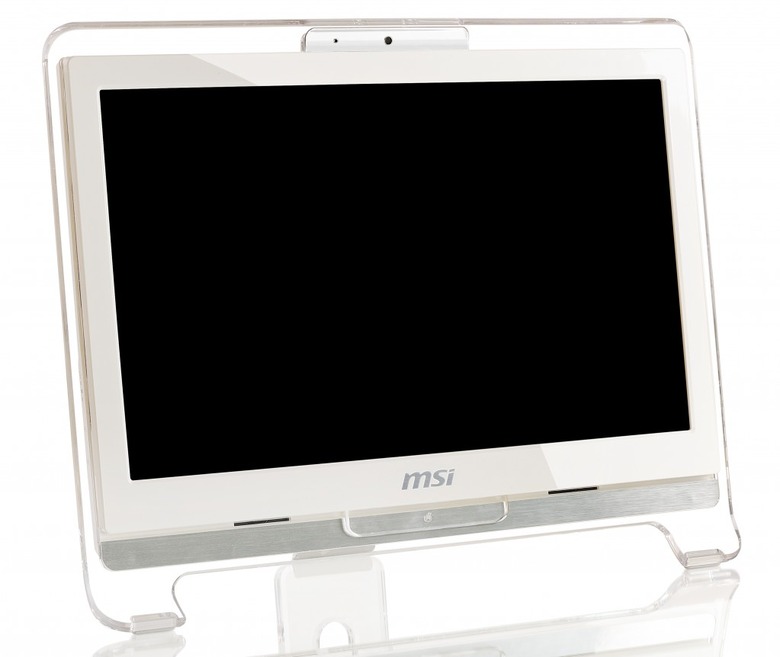 MSI have finally announced US availability for their touchscreen nettop, the MSI Wind Top AE1900.  First spotted back in February, the Wind Top AE1900 has an 18.5-inch 16:9 aspect touchscreen, Intel Atom processor and up to 250GB of storage.
Two models are on offer.  The MSI Wind Top AE1900-01SUS is the entry-level machine, with an Intel Atom 230 processor, 1GB of RAM and a 160GB hard-drive.  The AE1900-05SUS boosts that to a dual-core 1.6GHz Intel Atom 330 processor, 2GB of RAM and a 250GB hard-drive.  Both have a tray-loading DVD burner, 4-in-1 memory card reader and 1.3-megapixel webcam.
Connectivity includes WiFi b/g/n, gigabit LAN and four USB 2.0 ports, together with audio in/out, a modem and ethernet ports.  As for software, MSI load their Wind Touch GUI, which is more finger-friendly than Windows XP.
No word on specific availability, but the MSI Wind Top AE1900 will be priced from $529. 
Press Release:
MSI US ANNOUNCES AVAILABILITY OF TOUCH SCREEN WIND TOP ALL-IN-ONE PC

MSI Eco-Friendly All-in-One PC, Wind Top AE1900, features touch screen, sleek and green design at an affordable price of $529

See this and other MSI Desktop models at the Pepcom EcoFocus Green Technology Showcase in New York City April 29th from 6pm – 9pm

CITY OF INDUSTRY, CA – April 21, 2009 – MSI Computer, a leading manufacturer of computer hardware products and

solutions, is excited to announce the MSI Wind Top AE1900. The AE1900 is a complete home computing solution

featuring touch-sensitive PC navigation, a true 16:9 widescreen 18.5-inch screen, SRS Premium Sound and a sleek modern design that fits in with any décor.

The MSI Wind Top AE1900 features the Intel® Atom 230 Processor and runs Windows® XP Home operating system. It features a built-in webcam and microphone to insure convenient audio and video recording.

Continuing along MSI's tradition of "green" computing, the MSI Wind Top AE1900 consumes 80% less energy then a traditional desktop PC. At full operation, the MSI Wind Top AE1900 consumes no more then 50 watts of power.

MSI also included a spacious 160 GB SATA 2.5 inch hard drive, 4 USB ports, a 4-1 card reader and ships the MSI Wind Top AE1900 with a stylish matching mouse and keyboard. The ultra-silent, state-of-the-art cooling system eliminates traditional cooling fan noises and keeps the sound level to no more than 26 decibels.

The MSI Wind Top AE1900 features MSI Wind Touch; allowing for easy user interface with all PC functions. Additionally, picture viewing has never been easier or more fun with MSI Easy Viewer. Users can quickly browse, enlarge, rotate and scan through all your images with the swipe of a finger. Lastly, data entry using natural handwriting or the touch on-screen keyboard and the SoftStylus™ program is now easier then ever.