MSI Wind Gets OS X WiFi Drivers For Easy Apple Netbook Hack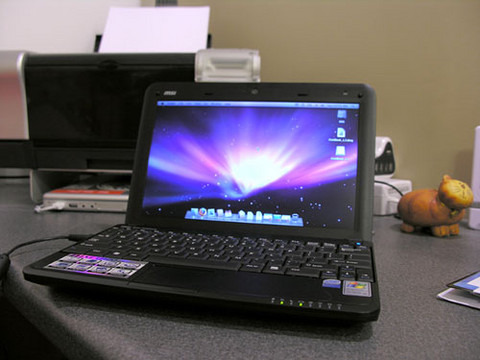 MSI's Wind has already been the subject of a number of OS X hacks, turning the 10-inch budget ultraportable into the poster-child of DIY Apple netbooks.  One significant stumbling block has been the networking; the Wind's Realtek RTL8187SE WiFi card refused to play nicely with Apple's operating system, and as such needed to be swapped out for a more friendly wireless card.  Now official Realtek drivers have emerged, making the hack even more straightforward.
The driver has not shown up publicly on Realtek's site, at least at time of writing, but is being distributed via the MSIWind.net forums.  The company had promised that the software for OS X was in development, and emailed the drivers directly to one user. 
While the factory-fit WiFi card does not register as an Airport card, it nonetheless works as expected in OS X meaning that under-the-hood tinkering is no longer necessary to convert your Windows or Linux netbook into an Apple ultraportable.  A note of caution, however: doing this may invalidate your netbook warranty, break Apple's EULA on OS X or simply break your computer. 
[via GottaBeMobile]