MSI Wind details released: 8.9 or 10-inches, 80GB standard HDD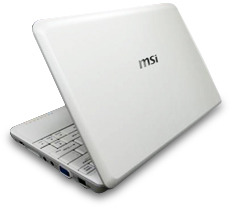 MSI has dropped a few more details regarding its Wind ultraportable, and in the process criticised rivals such as ASUS' Eee. We now know the Wind will be available with 8.9 or 10-inch LCD screens with LED backlight, running at 1,024 x 600, feature an 80GB standard 2.5-inch (e.g. not SSD) hard-drive and weigh around 1kg (around 2.2lb). It's been confirmed to run Windows XP.
As for the snub, MSI accused competitors of having "compromised the memory capacity", presumably by choosing relatively low-storage flash memory. ASUS' Eee, for instance, can be bought with as little as 2GB of storage, rising to a 20GB SSD in the larger Eee 900 version. They also suggest that an 8.9-inch display is the minimum for comfortable reading and writing; the entry-level Eee has a 7-inch display.
The Wind is believed to use a processor ranging from 1.0GHz to 1.6GHz and ship with 1GB RAM. MSI are claiming particularly long battery life, and that has previously been suggested as up to 7hrs. It will be available in Europe in June, priced somewhere between $470 and a whopping $1,110, although a release schedule for the US is as-yet unknown.
[via Electronista]