MSI GT60 First Gaming Notebook With 3K Resolution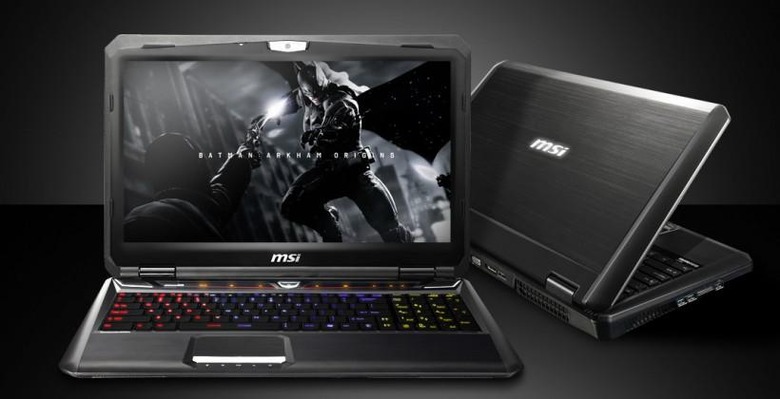 This week the folks at MSI have revealed a gaming notebook like no other – coming with the industry-first 2880 x 1620 on just such a laptop! This machine is a bit bigger than you're normally want to set on your lap at 14.97 inches long and 10.24 in width, but as a notebook, it'll be a rather top-notch addition to your collection. There's a Workstation iteration of this machine coming as well.
Two versions of the MSI GT60 are headed to market this upcoming season, one for gaming with the name 2OD-261US, the other for work with the name 2OKWS-278US. These machines are extremely similar in build and software delivery, with only a few exceptions in both – along with price.
For the gaming notebook you'll be working with NVIDIA GeForce GTX 780M graphics and Windows 8 Multi-language along with a Blu-ray Disk Reader. You'll have 3x USB 3.0 ports, 2x USB 2.0 ports, and an otherwise identical build to that of the other model. This gaming version of the notebook will ring in at $2,199.99 USD.
The workstation model of the GT60 will come with Windows 7 Professional and will work with NVIDIA Quadro K3100M graphics. You'll also find a Blu-ray Disk Burner, USB 3.0 x 3, USB 2.0 x 1, and a price point at $2799.99 USD.
These notebooks both work with a 15.6-inch display with WQHD+ (3K) resolution – with a 16:9 aspect ratio, that's 2880 x 1620 pixels. You'll find Intel Core i7 4700MQ processors with HM87 chipsets along with 128GB SSD and a 1TB HDD (7200 RPM) along with 16GB of DDR3L memory at 1600MHz.
Inside of both models you'll also find Killer E2200 game network and Killer N1202 a/b/g/n wireless connectivity. Both models work with an SD XC HC card reader and HDMI 1.4 out ports. You'll have a 720p HD webcam up top, SteelSeries full-color programmable backlit keyboards on deck, and Dynaudio Premium Speakers under the hood with subwoofer ready to bounce. Both units also weigh in at 7.7 pounds – time to game on the go!