MSI Funtoro FunStar ICE system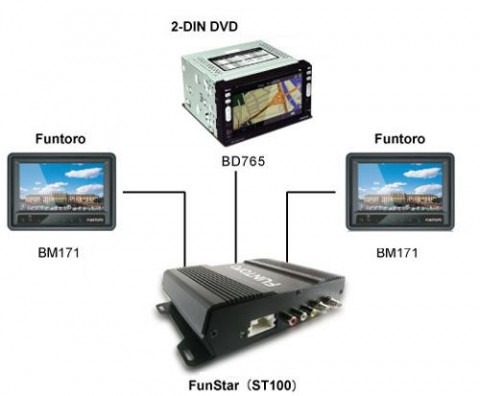 MSI have announced an in-car entertainment system, the Funtoro FunStar ST100, which they're claiming is the pioneer for all-in-one systems.  Comprising a core processing and distribution unit, together with a 2-DIN DVD player and front display, the BD765, the system can support up to three separate zones each with touchscreen control.
Together, the ST100 and  BD765 offer GPS navigation, Digital TV, gaming and a full audio and video media player.  There's also an external A/V input for hooking up third-party media sources, together with optional extras including a rear-view camera, tire pressure monitoring system and OBDII car information.
Two BM171 touchscreen LCDs can be added to each FunStar ST100, and the system automatically stores the last-used app or last media bookmark and resumes playback when you boot back in.  Best of all, if you get sick of DVDs, gaming, DTV, GPS or even watching the individual pressure in each of your tires, MSI preload the FunStar with Chinese-language flashcards, so you can teach yourself another language when driving!
No word on pricing, but the MSI Funtoro FunStar system appears to be available now.
Press Release:Funtoro-The Pioneer for Car Entertainment ALL-in-One System in the World
Funtoro Inc., a member of MSI (Micro-Star International) Group, is a leader in Designing, Marketing and Sales of Entertainment & Telematics solutions in Vehicle. She strives to achieve Innovation, Quality and Value to Customers worldwide, and a mission to innovate the Information and Communication Technology (ICT) to enrich the Life-Style in Vehicle.
In this early year, Funtoro released the First Car Entertainment All-in-One system in the world– FunStar Standard. With unique patented multimedia technology, it is a Cost-Effective System integrated with Digital TV and GPS Navigation, and will definitely catch your eyes during CeBIT 2009.
Only one server in your car supports 3 independent zone playback systems, each system can be controlled independently such as TV channel and function switching. Besides, instead of complicated device, all the monitors of this system embedded with touch sense, are very easy for users to control.
Above all, this system is applicable to any types of vehicles, each passenger owns his independent zone to enjoy and experience the rich and quality entertainment in car no matter for individual, family or business needs.
1.Complete Built-in Functions
-GPS Navigation system
-Mobile TV、Gaming、Media player
-AUX-IN (External A/V Input, Ex: CD/VCD/DVD changer, 2-DIN AV OUT)
2.Triple Zone playback
3.Easy to Use
-Integrated TOUCH HMI
-Optional Remote controller
4.Patented "Never Stop" Technology
-Auto Recovery (Watchdog)
-Dual Boot
-Last Good (Memorizes every passenger's fun moment, and automatically resume the last playing point upon system power-on)
5.Intelligent peripheral integrations
-Rear view camera
-Tire Pressure Monitoring System (TPMS)
-Car information by OBDII
6.Integrated Language Learning System
-Chinese electronic flashcards and Bilingual contents are embedded in your car entertainment system (Supported by Quick Language Learning Inc.Ltd.)
-Easy to learn Chinese fast in car no matter what language you use
With our product in car, you can enjoy not only quality entertainment but digital TV and traveling safety, so considerate to satisfy your family and passenger's needs. No matter in travel or business, all of them can have a very good time without worry of safety!