MSI C-Series 16 and 17.3-inch budget notebooks debut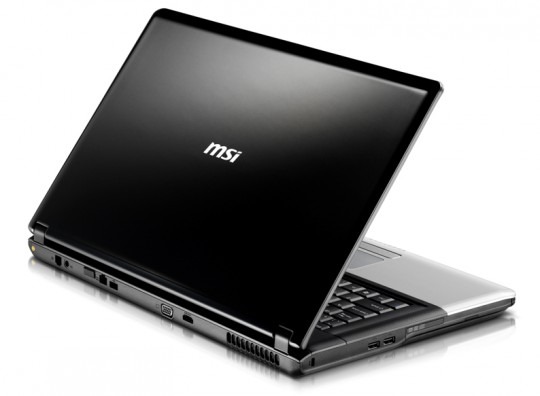 MSI have announced five new notebooks in its C-Series, the 16-inch WXGA CX600, CR600-013 and CR600-017, and the 17.3-inch WXGA++ CX700 and CR700.  Each packs a Pentium Dual Core processor – the T4200 2.0GHz, aside from the CR600-017 which gets the slightly faster T4300 2.1GHz – together with 4GB of RAM and a 320GB hard-drive.
There's also discrete graphics across the board too, with the CX-machines having ATI's Mobility Radeon HD4330 while the CR-machines get NVIDIA's GeForce 8300M G.  Also standard is a DVD burner (aside from the CR600-017, which gets a Blu-ray drive) and WiFi b/g/n, together with gigabit ethernet, three USB 2.0 ports and a 1.3-megapixel camera.  The NVIDIA GPU machines also thrown in an HDMI port.
A 6-cell battery and 4-in-1 card reader are also standard, and the 16-inch models tip the scales at 5.47lbs while the larger 17.3-inch machines climb to 6.61lbs.  OS is Vista Home Premium, and prices start from $549.99.
Press Release:
MSI US Launches Five New C-Series Notebooks

CITY OF INDUSTRY, CA – August 13, 2009 – MSI Computer, a leading manufacturer of computer hardware products and solutions, is excited to announce the five newest editions to its Classic C Series Line of Notebooks – the CX600, CX700, CR600-013, CR600-017 and CR700. The 600 models are lightweight 16

inch notebooks that weigh in at just 5.4 pounds and are only 1.18 inches thick – 20 percent thinner than the average 16 inch notebook. The 700 models are 17.3 inches and weighs just over 6 pounds. These trendy laptops feature a striking design with clean lines and 45 degree angled edges. All five models feature MSI's Color Film Print Technology, which creates vivid designs when the unique surface interacts with ambient light.

The newest MSI C-Series notebooks feature widescreen LCD 16:9 aspect ratio high resolution displays (600 Models – 1366×768, 700 Models – 1600x900). These allow users to view DVDs in full widescreen with no black lines. The CX600 and CX700 are equipped with the ATI Mobility Radeon HD4330 3D discrete graphic card (512MB VRAM), capable of increasing display effectiveness by 49% with rich colors, sharper contrasts and better picture clarity.

Both CR600 models and the CR700 feature the NVIDIA GeForce 8200M GPU and an additional HDMI port for outstanding display capabilities and an enhanced visual experience. The CR600-017 offers users with more advanced viewing needs a superior CPU (Intel Pentium Dual Core T4300 2.1GHz) and a Blu-ray DVD player.

The new notebooks also deliver superior connectivity with an 802.11 b/g/n high speed WLAN. MSI also includes a 1.3 megapixel webcam on all new C-Series models, making it easy for users to create and share video content from anywhere to anyone in the world.

The new C-series models start at $549.99 MSRP and all comes with a 3 year limited warranty, which includes 1 year of global service.