Ms. Splosion Man Releasing Early on July 13th!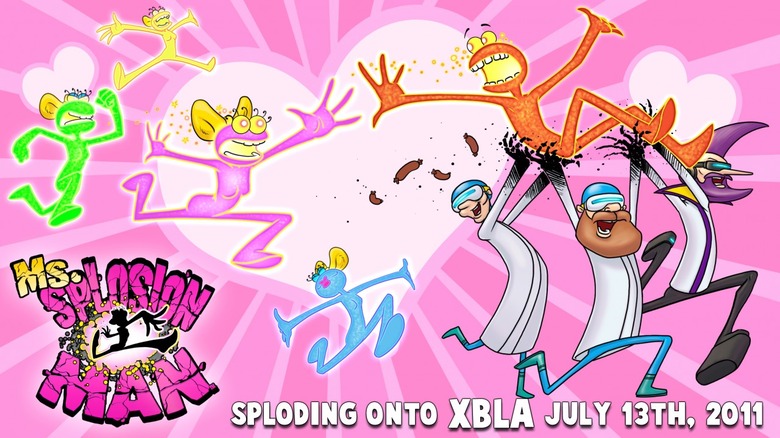 Joy un-2 the new year! We're getting Ms. Splosion Man earlier than we expected! This game which we've scantly spoken of since back in December was originally slated for sometime in the Fall of 2011. Now we've got word that it's coming out in July – what a winner! This game, as it was originally noted to be, will come out on Xbox 360's Xbox Live Arcade and is the direct sequel to the 2009 classic Splosion Man – get ready to Splode!
What you've got here is a game where you're supposed to free Splosion Man from the grips of the scientists at Big Science. They're utterly enamored with the idea of stopping him from sploding all of their machinery, so they've trapped him in the box. Of course once they started to celebrate their victory over splosions, they began to drink some bubbly – and what do you know? Chaos ensued. The birth of Ms. Splosion man had happened and the Splosion Man we all know and love was made in a lady version – complete with lipstick and a bow.
Now we've got word that this magical game will be coming out on the 13th of July with revamped network support, fifty levels for both single player and multiplayer, and lots and lots of colors! New gameplay mechanics, a whole new collection of boxes, new music, and of course a whole pack of humor and unlockable content. This content consists of behind-the-scenes videos of the game's creation, a bit that the creators are quite proud of.
"We are incredibly proud of Ms.

Splosion Man and feel like it is our best game to date. We are very excited to launch it this

summer on XBLA," says Twisted Pixel CEO, Mike Wilford.
Of course they are! This game is created by Twisted Pixel games, a group that's also brought you such classics as The Gunstringer and The MAW. Have a look at their blog here or have a whole heck of a lot of fun in our Xbox Portal for ultimate excellence in reports and analyzation.