Mozilla Launches Focus Ad-Blocker For iOS 9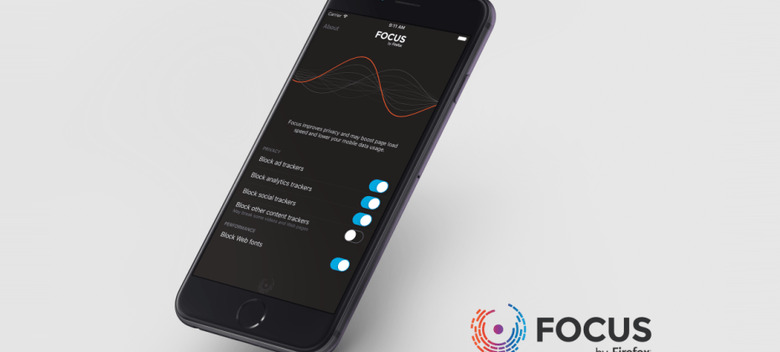 While Mozilla has just said that it's ending development of Firefox OS for smartphones, that doesn't mean they're done with mobile-specific products. Instead Mozilla has just launched an iOS ad-blocker by the name of Focus by Firefox, which, incidentally, doesn't actually work with Firefox. The app, available for free on the App Store, is a content blocker for iOS 9 that lets users block not only ads, but also analytics and trackers when using the Safari browser.
Focus is different from other content blockers that have become popular since iOS 9's debut, such as Peace or Crystal, in that it gives users direct controls over the type of things they don't wish to see on certain websites. Mozilla says it takes advantage of the open-source blocklist from Disconnect.me, the same source that the desktop version of Firefox relies on.
The benefit of content blockers is that they can make mobile web browsing safer by eliminating ads and trackers, but in addition to privacy they can reduce page load times and offer overall speed improvements, which Focus can do by also blocking things like web fonts.
Mozilla notes that it's not their choice that Focus only works with Safari, as they wish it would be compatible with Firefox for iOS too. Unfortunately iOS 9 doesn't allow content blockers to connect with third-party browsers, but they hope that Apple will change these rules in the coming months.