Motorola XOOM WiFi/EVDO/HSPA Detailed; "Ability To Deliver 50MB/s" Justifies $799 Price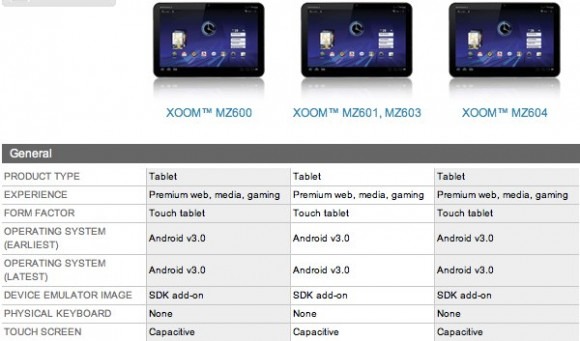 Details of Microsoft's various XOOM models have been released, with the initial Verizon version of the slate up against the WiFi-only MZ604 and HSPA MZ601/MZ603 versions. Meanwhile, Motorola Mobility CEO Sanjay Jha has defended the $799 pricing of the 32GB Verizon XOOM MZ600, confirmed earlier this week, saying that it's the potential for 4G that makes the Android 3.0 Honeycomb tablet more valuable than Apple's iPad.
According to Jha, Motorola "felt that our ability to deliver 50Mb/s would justify the $799 price point. It is 32GB with 3G and a free upgrade to 4G." Asked whether the Apple slate had indeed been the benchmark by which Motorola had planned the XOOM launch, he agreed that it was the current yardstick but that it was not necessarily the outright winner. "Being competitive with iPad is important" he said, "we feel that from the hardware and capabilities we deliver we are at least competitive and in a number of ways better."
As for the WiFi-only version – which has WiFi b/g/n support but no 3G/4G – Jha said it would be "meaningfully cheaper" than the cellular-equipped versions. "The price is set by iPad at $599 and we will be right around there" he confirmed.
[Thanks Barry!]