Motorola TRIUMPH Announced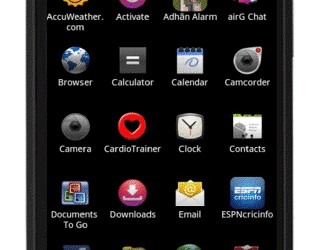 Today in NYC we heard of a device of some note: inside its chassis is a phone that's ready and willing to be your very first Virgin Mobile Android device from Motorola AND in fact your first Motorola phone on Virgin altogether. This device will be released with no contract plan in tow and although it wont be winning any contests for processor power, screen size, or storage, it'll certainly be a choice people have to make for the big V if they want a bigtime Android phone from the M, if you know what I mean.
This device has a 4.1-inch 800 x 400 pixel resolution WVGA touchscreen display with a VGA camera on the front and a 5-megapixel camera on the back. It's got the ability to capture HD video at 720p and has HDMI-out playback of 720p, and features a big FIRST on Virgin. This device has the Virgin Mobile Live 2.0 app and is the first smartphone to contain such an app. This app will allow you access to the Virgin Mobile branded music stream. What this app consists of is a social networking music application that'll give you access to a music stream hosted by none other than a musician by the name of DJ Abbey Braden, live music performance videos, and special "check in" features at special events. Basically this is a Virgin Mobie lover phone.
This phone has a 1GHz processor, runs Android 2.2 Froyo, and has Flash support, plus "Android Webkit Browser" as they've called it here in New York today. The device is made with a soft touch design so it'll be lovely to handle, it weighs in at 143g (5.04 ounces), and its dimensions are 4.8" x 2.5" x 0.4", making it relatively thin. Certainly a good competitor for the rest of the Androids on Verizon, the last one we looked at being the LG Optimus V on Android Community. Also a generally lovely Android in its own right.