Motorola takes on Google Nexus with RAZR Developer Edition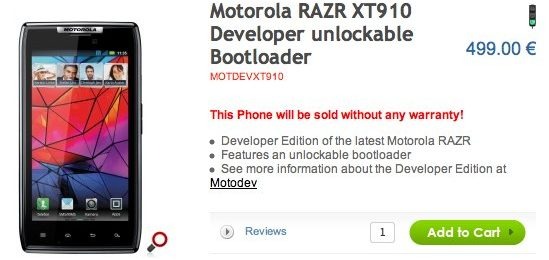 Motorola is taking on Google's Galaxy Nexus at its own game, courting Android coders with a Developer Edition variant of its own RAZR smartphone. The RAZR XT910 Developer Edition is functionally identical to the existing GSM RAZR, but will come supplied with an unlocked bootloader so as to make installing unofficial firmware builds possible. However, in return, Motorola will withhold the warranty, so if users brick their phone they're on their own.
Still, the device is likely to be popular among developers nonetheless, tempted by the RAZR's slimline body, dual-core processor and big screen. The consumer version of the handset comes tightly locked-down against third-party ROMs, however, something Motorola says is necessary in order to "continue meeting our carrier and regulatory obligations."
According to "the needs being expressed by our developer community" Motorola reckons, an unlocked variant of the RAZR is the most in-demand device around. The phone will go up against Google's "official" developer platform, the Galaxy Nexus, though the RAZR currently runs an older version of Android, 2.3 Gingerbread rather than Ice Cream Sandwich. An ICS upgrade for the consumer RAZR is expected in the next few months.
The Motorola RAZR XT910 Developer Edition is up for pre-order in Europe now, priced at €499 ($657), though there's no indication as to when it's expected to ship. Motorola says a version for the US market will follow on "in the coming months."
[via Android Community]