Motorola sales dip under Verizon iPhone 4 pressure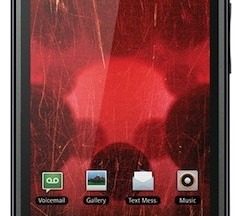 Motorola has revealed smartphone sales have already dipped in anticipation of the Verizon iPhone 4, with the company's Q4 performance impacted even before the official announcement had been made. According to CEO Sanjay Jha,"since the announcement of the iPhone, we have seen a little slow down in our sell through of devices at Verizon. There was anticipation of devices coming to Verizon even prior the announcement of the iPhone." However, Jha also suggests that expectations around a flagship Motorola device in Q1 2011 also impacted the previous quarter's sales.
Those new smartphones use Verizon's high-speed 4G LTE network, and were well leaked in the run up to CES 2011 where they made their official debut. Smartphone shipments in Q4 reached 4.9m, lower than predictions of 5.2m, and Motorola has already warned investors to expect a net loss of $26-62m this quarter.
Still, Jha is confident that even with the iPhone 4 competing for Verizon customer mind-share, Motorola still stands a chance. "When customers go into the Verizon stores now, they'll be offered choices" he suggests, "and time will tell what percentage of sales goes to which brand."