Motorola RAZR I Official: 2GHz Intel Android Smartphone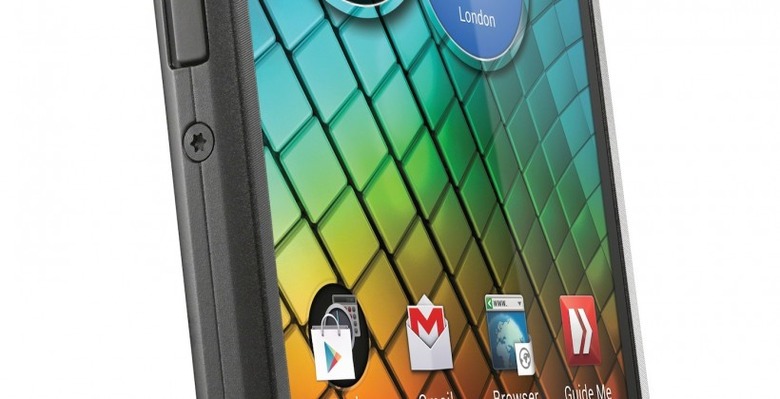 Motorola has launched its first Intel-based Android smartphone, the Motorola RAZR i, a 4.3-inch handset running a 2GHz Intel chip. RAZR i uses a qHD Super AMOLED "edge to edge" display that, Motorola claims, delivers a 40-percent larger panel than an iPhone 4S, or a 15-percent larger display than an iPhone 5, size for size. On the outside, there's Kevlar for tough, lightweight protection.
Motorola's three goals with its latest range are speed, power management, and a demonstrable commitment to Android. "A phone is only half a phone if it only last halfway through the day," Jim Wicks, senior VP of design at Motorola Mobility, said today. So, the RAZR i gets a 2,000 mAh battery good for 20hrs of mixed use.
Intel's Atom processor is built using 32nm processes, and the chip company says there are big advantages to its faster silicon. Intel has apparently spent "years" polishing Android on x86, and bringing it up to speed with HyperThreading, so that Java and HTML performance is suitably swift.
You get NFC, as you'd expect from a modern Android phone, and Motorola has customized the Android 4.0 Ice Cream Sandwich UI with "circle" interface. Where it can, Motorola will be leaving the bootloader unlocked, too, for those who want to modify their handset.
As for the 8-megapixel camera, that starts up in under a second, and is capable of a 10 photo burst in a second. In fact, Motorola and Intel claim, the RAZR i is faster than a regular DSLR. A 0.3-megapixel camera is up front.
The Motorola RAZR i will hit select markets – including the UK on Orange, T-Mobile, Phones 4U, Virgin Media, and Tesco, and several countries in Europe – from the beginning of October.
Hands-on with the RAZR i here!
[Update: We originally reported a 720p HD display, but the RAZR i actually has a qHD display]